You are here
Find True Love This Valentine's Day
Tuesday, February 14, 2012 - 10:00am
And The Rose Goes To…
Callie and Linus. Valentine's Day is known as being the day of love. On this romantic day new relationships are formed and old relationships are strengthened. In honor of this love-filled day we are profiling two of our most eligible bachelors and bachelorettes. Callie and Linus are both single pups that are ready to find their lifelong partners. Won't you give your rose to one of them?
Callie is a 2 year-old gorgeous fawn pit bull who caught our eye at South LA Shelter. Callie has the warmest honey colored eyes that make everyone swoon, and a toned athletic body that attracts envious glances at every turn. Everyone knows it's hard to "tie down" a Sagitarius, but don't let that stop you from trying to win Callie's heart. She is ready for a serious relationship with a committed partner and is actively seeking her perfect mate. Callie is adventurous and energetic. Although Callie is active, she is certainly up for cuddle sessions on the couch on a Saturday night. (She also gives great tongue kisses.) Put on a good movie, butter some popcorn, grab a fuzzy blanket and Callie will snuggle 'til morning. She is quite a lover and is eager to find that special someone to call her own. 
Callie has her Degree in Basic Obedience from Turnaround Training and is looking forward to continuing her education. 
And now our bachelor…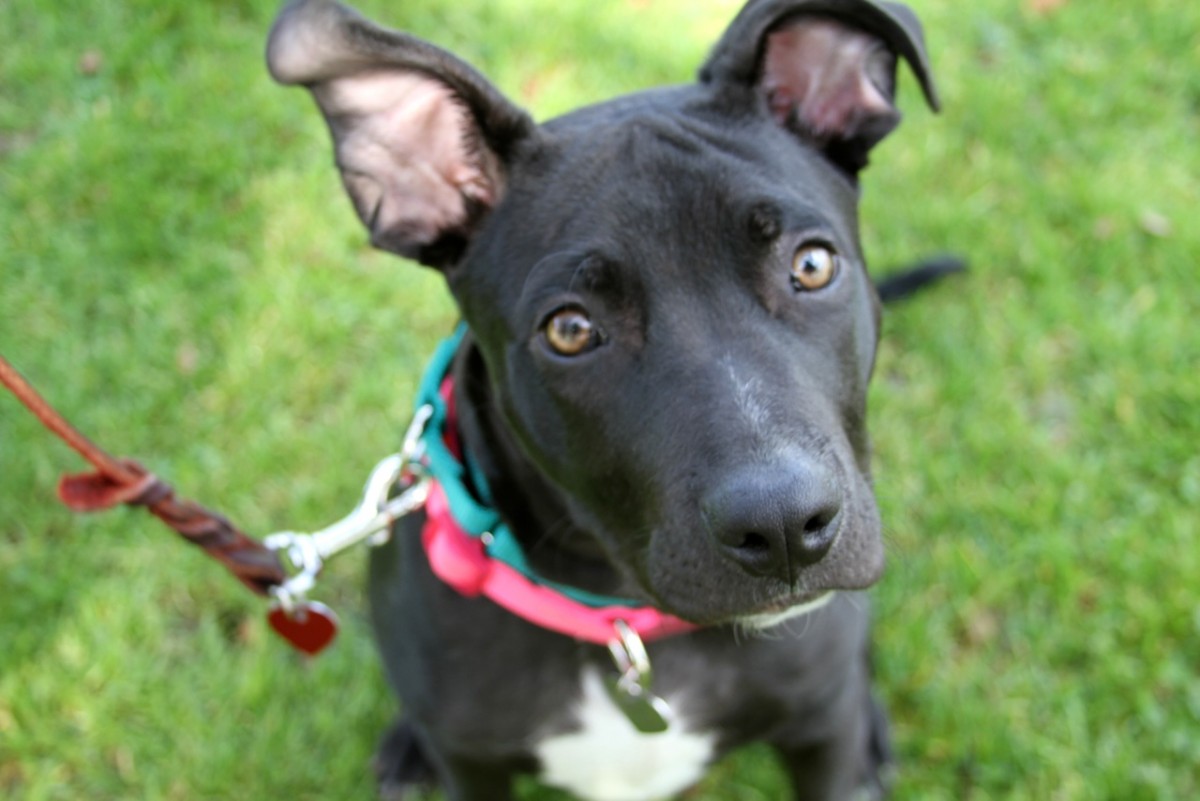 Linus is approximately 6 months old and hails from the Baldwin Park Shelter. True to his Virgo nature, Linus is a natural caregiver. He is lighthearted and fun and enjoys making others smile. His whimsical energy is contagious and his goofy sense of humor can charm the paws off anyone. Young or old, cat or dog -  really doesn't matter to Linus. He loves to have fun and entices everyone around him to play. And play. And play some more. His sense of humor and sweetness can bring a smile to the most cynical of faces.
Linus enjoys spending his days in the company of other four-legged creatures. He loves life and wants to share that love with everyone around him. Linus' good looks have made him the center of attention wherever he goes. Although Linus does revel in all of the positive attention, he is looking to connect with someone on a deeper level. He is a sensitive soul and wants nothing more than to share his days, and his heart, with a loving and loyal companion.
If you are interested in our bachelor or bachelorette please contact us at adopt@angelcitypits.org. Love is just an email away!
 
Robin
Director of Education
Foster Coordinator
Match Maker