You are here
Fostering a Pit Bull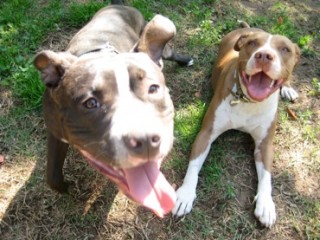 ACPB is exclusively a foster-based program. With no shelter/boarding facility, every dog we take in must have a foster home. As you can imagine, this makes foster parents vital to our mission. Without fosters, we are unable to help any of the dogs we meet in the city shelters.
Foster parents provide temporary homes for rescued pit bulls prior to adoption and during that time they do all the things that a dog owner does so it is imperative that we match the dog to the foster parent's capabilities, energy level, and other pets, etc. In order to have a successful program we thoroughly discuss these with the foster parents and provide guidance along the way.
The dogs we take into our program are the best examples of the breed as demonstrated by their easy going and affectionate nature but that doesn't necessarily mean that they are ready to go into a permanent home. One of the most valuable things a foster home provides during this temporary period is structure and life-lessons to the newly rescued dog. Your love, affection, exercise, daily care, socialization and basic training will help prepare him/her for a successful transition into a forever home and you will have truly saved a life.
We provide all medical care for the dogs in our program. In addition, we provide a collar, leash, tags and a crate. Whenever possible, we ask that the foster home provide food as it helps cut down on our expenses. When you need help exercising your foster our volunteers can help. We will also transport to adoption events and network the dog if you are unable and Angel City Pits will support you all the way through the foster process.
While fostering is meant to be a temporary situation sometimes foster parents get attached and a foster home turns into a permanent home. We totally understand; many of us have dogs of our own that started out as fosters! That's why as a foster parent you will have first choice to adopt.
Please consider opening your home to a pit bull in need, it is one of the most rewarding and generous things you can do to help these wonderful dogs.
If you are interested in becoming a foster parent, please complete a foster questionnaire and email back to Sue at FOSTER@angelcitypits.org.
Fill out the Foster Questionnaire online here.