You are here
Volunteer Spotlight: Emily
Friday, March 15, 2019 - 12:15pm
Meet Emily, one of our Jefferson Park shift leaders, ACPB Academy dog handler, and overall helpful volunteer! Emily is always ready to jump in to help, and has made a huge difference for our dogs--especially since she has a soft spot for the ones who are working on their manners! We are so lucky to have her as part of the ACPB family!
When and how did you first get involved with ACPB?
I first started volunteering in August 2018. I did a few "stranger danger" sessions with PPT. Shortly after that, I became Scooby's handler for the ACPB Academy.
What do you do as an ACPB volunteer?
I volunteer at Jefferson Park, as a handler for the ACPB Academy, and also do transports.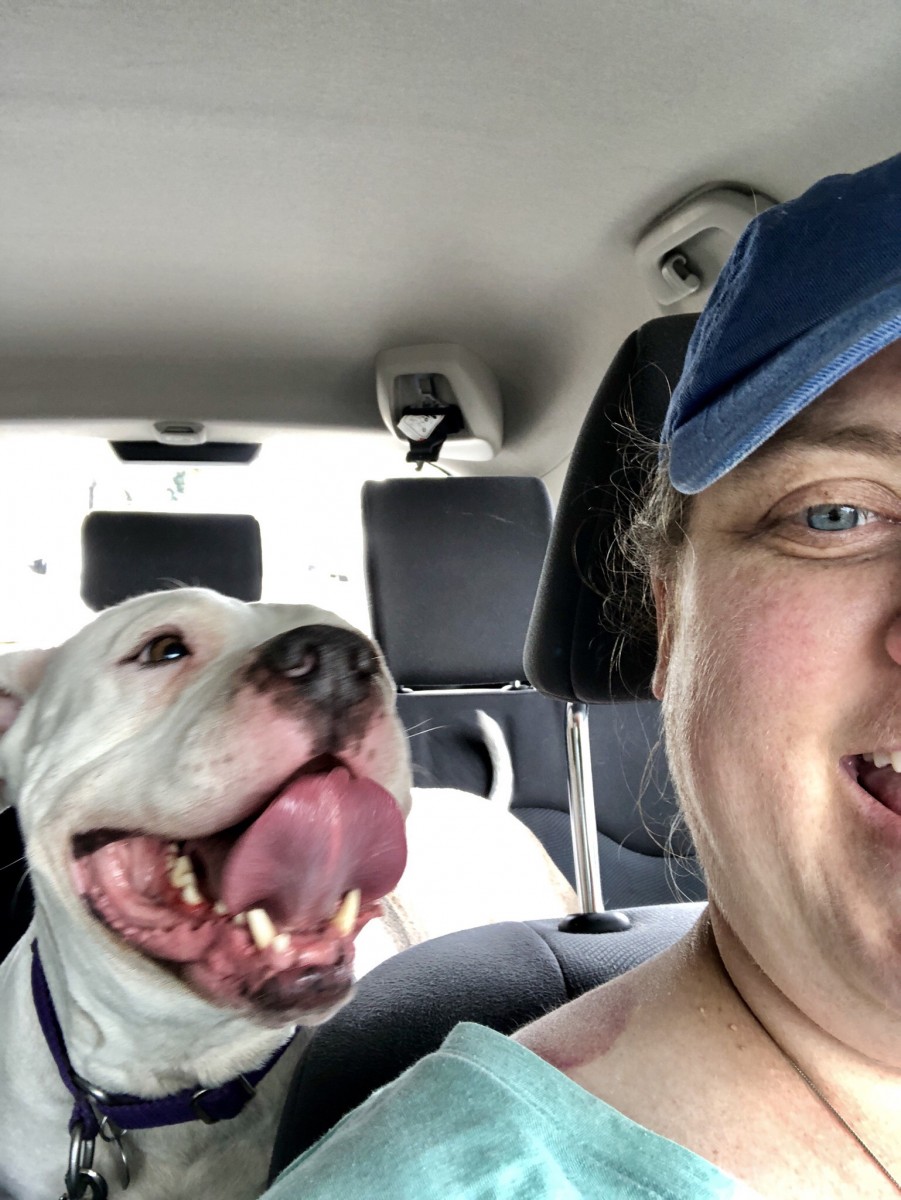 What has it been like volunteering at Jefferson Park?
I started doing shifts at JP after my first ACPB Academy session was over. I wanted to continue spending my Saturdays with Scooby! At JP you're able to get to know all of the dogs really well. I love being able to spend one on one time with each of them. I always look forward to my shift. How can you not when there are all those cute faces waiting for you? And the pups never fail put a smile on my face. It's impossible to be grumpy or in a bad mood when you're at JP!
What is it like working with foster dogs as part of ACPB Academy?
I love being able to work with the foster dogs in the ACPB Academy. I highly recommend it! It's so rewarding to watch the dogs progress each class. And when you're working with the same dog every week, like I did with Scooby and Ash, you create a bond. I love all the dogs of ACPB, but those boys will always have a special place in my heart. The trainers that run the classes are amazing. I've learned so much from them. The classes have made me a better handler. I'm able to use the skills I've leaned in class with the residents at JP. On walks I work on their leash skills using techniques we use in class. In the yard I work on their commands. I want each of them to be the best dogs they can be, so they can find their forever homes and live the lives they deserve.
What's been the best part of volunteering? The most challenging?
Dog snuggles! I love being able to witness small victories with the dogs. It can be learning a simple command, a former puller walking with a loose leash consistently, or a timid pup coming out of her shell. They're happening all the time and it's so exciting! It can be challenging to learn each of the dogs' quirks at JP. They all come from different backgrounds and have different personalities so you have to learn how to best handle each one. Some are shy and some are high energy. Some would rather be rewarded with affection than treats. But that's part of what makes it fun. 
What would you say to someone who's on the fence about volunteering?
I would encourage them to go to the ACPB website and apply to be a volunteer. This will get you on the email lists so you can learn about all the different volunteer opportunities there are. Then I would suggest they go to an orientation to see what volunteering is all about. Once they do those two things, I'd say sign up for a shift at JP and try it out! The shift leaders and other volunteers are amazing and so helpful. But the dogs will be the ones that make you want to come back!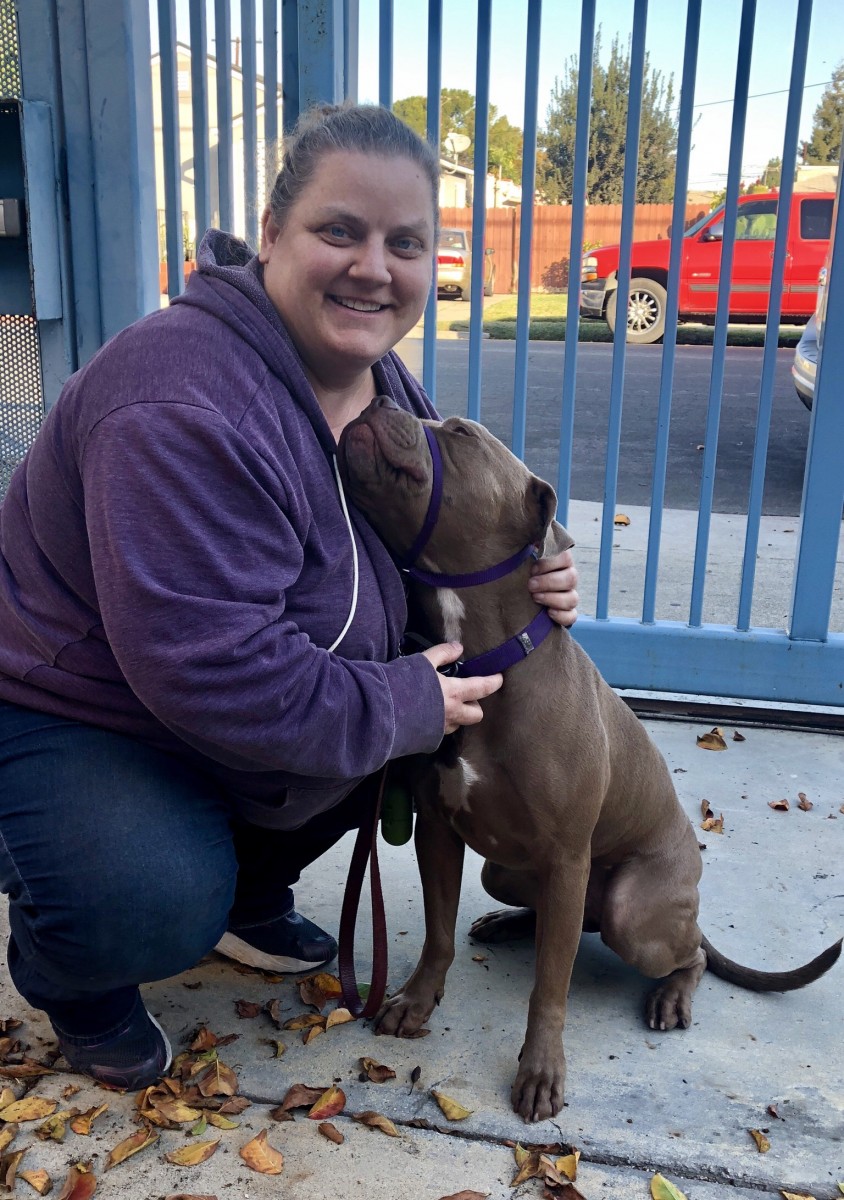 What has been your most memorable ACPB moment?
Hands down, the most memorable moment for me was the day Scooby went to his forever home. I knew ahead of time the day his adopter was coming to pick him up so I got to JP early. I wanted to get some extra one on one time with him. The difference in his behavior from the day we met to the day he left was like night and day. When we met, he was barking and jumping in his kennel. When I tried to leash him up, he jumped all over me. I couldn't get the gentle leader on him myself because he was all over the place. I had to have Seung do it for me. He spent a lot of our first class laying on his back trying to get his gentle leader off! That last morning, he sat quietly and waited for me to enter his kennel. He didn't jump on me at all. And when I went to put his gentle leader on he calmly stuck his nose up in the air to make it easy. On our last walk together he was perfect on leash. It was so great to see how far he'd come in a few short months. It was bitter sweet saying goodbye (I may have cried. Several times.), but I was so happy that he now had a family and getting to go HOME.
Thank you, Emily, for your hard work and dedication to these dogs! If you'd like to make a difference like Emily, sign up to volunteer today!