You are here
Phoebe Undergoes ACL Surgery
Friday, February 17, 2012 - 10:52am
It's been a week since Phoebe had ACL surgery, and she is recovering nicely. Phoebe had a rupture of the ligament that holds her knee together. Similar to an ACL tear in a person, she required major orthopedic surgery to repair this issue. We're not sure how long her ACL was torn for because she came into the Pasadena Humane Society limping with bruising, abrasions, pressure sores and a damaged tail.
While the veterinarian was performing her ACL surgery he noticed A LOT of scar tissue around her knee area which probably means she was limping around and in pain for quite a while before ending up at the shelter, poor girl. The vet trimmed away all of the excess scar tissue and he was able to successfully repair her knee. We were fortunate enough to find a loving foster family in San Clemente that lives near the Vet office where her surgery was performed. She's even starting to put a little weight on her leg from time to time.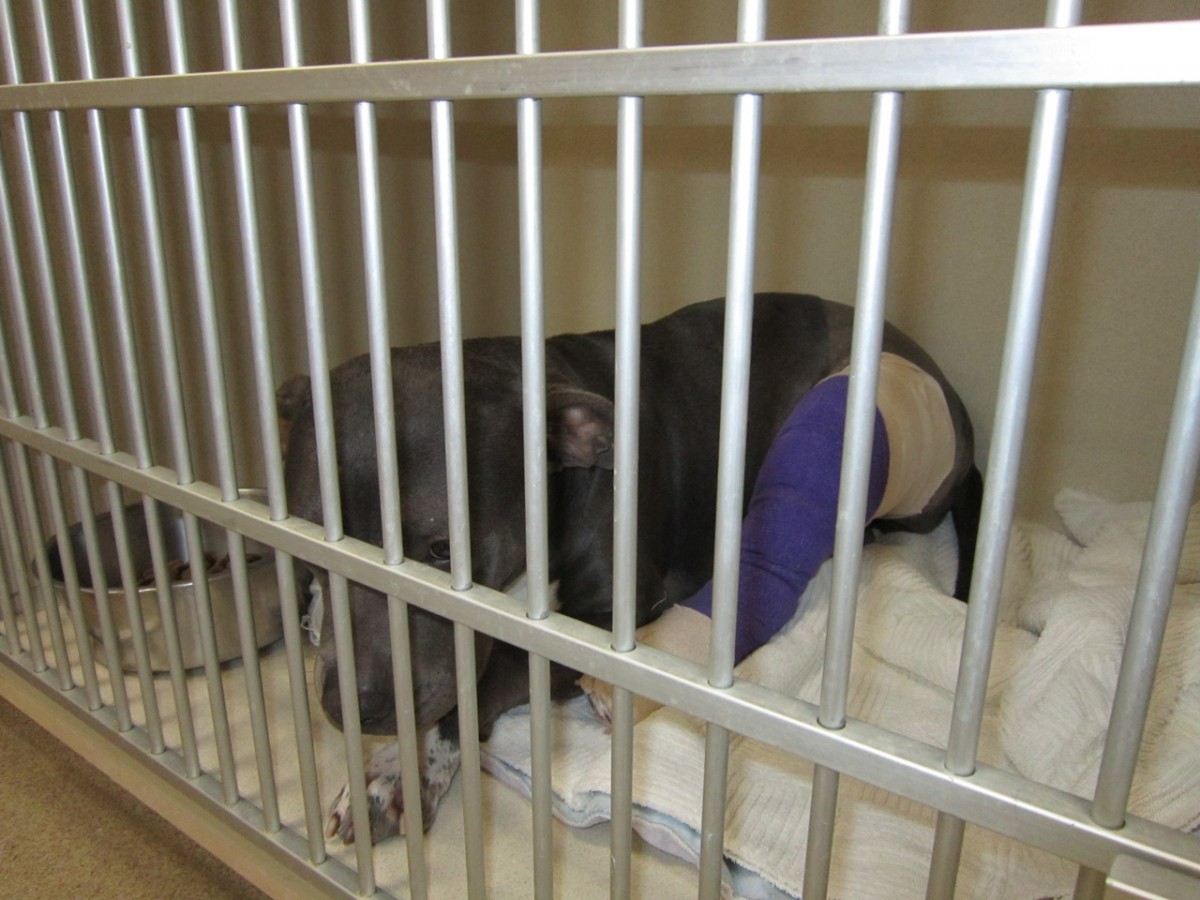 When a dog is recovering from ACL surgery, as with any major surgery, he or she requires close monitoring and care as to ensure a smooth recovery. Lucky for Phoebe her foster family works from home and is able to be there to meet all her needs and provide her with lots of TLC and kisses. Phoebe is highly crate trained so her crate provides a comfortable place to safely rest.
Despite having major surgery her foster family said she is in very good spirits! She still manages to give her signature happy butt-wiggle greeting that she has become famous for. The downside is, however, that Phoebe's vet bills have been adding up, and so we are asking for YOUR help to continue to help Pheebs. We are entirely volunteer run and our existence as an organization depends on donations, so anything you can give is TRULY appreciated. In the meantime, we are all wishing Phoebe a smooth and speedy recovery and we are SO THANKFUL for her foster family for opening their hearts and home to this little girl!
 
To contribute to Phoebe's recovery, please visit our DONATE page. Any amount helps, and we are so very grateful!