You are here
DIY: Tug Rope Toy Edition
Monday, May 7, 2012 - 8:34am
Dog toys are essential in my doggy household. My two dogs love their toys! However, over time the money spent on toys adds up and by the end of a few months and several beat up and worn down toys, my bank account really takes a hit. I began looking for an alternative for more affordable toy options.
I've started making my own toys! Now, I'm not going to say that this idea was completely my own. I read a post from a fellow pit bull blogger Love and a Six Foot Leash, and the author made her own tug toy out of a fleece blanket purchased from the Goodwill. This was a perfect idea. However, there were no "How To" instructions. All that was mentioned was the blanket and a sewing machine (which I don't have). Since then I've tried several different methods and went through a few blankets but I've finally figured out a simple way to make a tug toy (that my dogs LOVE) without having to use any thread or needles. 
Here are the steps I took in fashioning my own version of the fleece blanket tug toy. No sewing machine or kit required. The only thing you need is a fleece blanket and some scissors.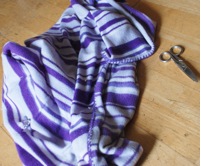 Take the fleece blanket and cut into 1 ½ - 2 inch strips. (Depending on the size of your blanket this is the most tedious step. But just keep cutting, it gets easier I promise.)


 
Next gather all your strips at one end and tie a knot. Leave about 6 inches of fabric on the loose end.


 
Take strips and divide into three sections. Braid each section until you end up with three braided sections.
Continue to braid the three braids into one large one. (Make sure you keep the braids as tight as possible. It allows for the toy to be more durable.)
Finish by tying another large knot at the end.


…and there you have it! Your very own tug toy. And it only costs you a couple of bucks.
A few tips: The thickness and length can be changed depending on the amount of strips you can get - more strips make for a thicker weaved toy. Also, this particular toy is the full length of the blanket, one blanket can always be cut in half (especially if it is an extra large one). Sometimes you might be able to get two toys out of one blanket!
I've found that most discount stores carry fleece blankets for $2-$3. As much as I would love to always purchase them from the local Goodwill they don't always have fleece blankets or very attractive colors to choose from.
Try this easy DIY project! Let us know how it goes and if you did anything different to make it just right for your dog. And if you make your own toys, please share your method with us!
Alyss
Assistant Foster Coordinator