You are here
Disney Needs Your Help Now!
Wednesday, February 1, 2012 - 8:30am
We were volunteering at Baldwin Park County Shelter on New Years Eve when we met a beautiful 8 month old pit bull puppy as he was brought in. The Animal Control Officer had to carry the pup because he was so starved, and his muscles were so weak, he could barely walk.
However, when we went up to meet him, his tail wagged ever so slightly, and in that moment, we were hooked. He gave us one sweet kiss before going into his kennel, where he actually seemed relieved to have a warm bed and a bowl of food. He was filthy, covered in dirt and bugs, and had been sprayed by a skunk- we were completely in love.
We immediately started networking for a foster home and when the pup became available to the public just a week later, we found out he had fallen incredibly ill with bil-lateral pneumonia. We knew this would be expensive... but... We took him home anyway. He went straight to the hospital and was boarded for two weeks- the first being touch and go. We are incredibly happy however to report that he has since regained much strength and is now finally well enough to go home to his foster family.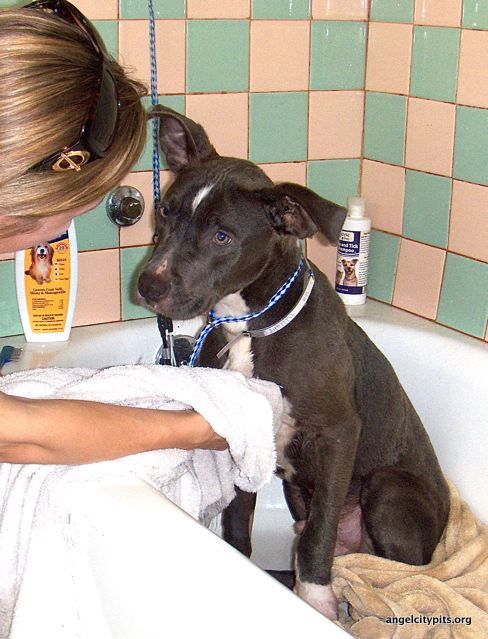 We named him Disney, partly because of his huge Mickey Mouse ears and partly because we know he is meant to have a fairytale life from here on out. The total for his vet care and recovery was over a thousand dollars, and so we are asking now for help to offset the cost. Thank you as always for caring about our dear precious dogs, without you we wouldn't be able to do what we do to help them. We promise updated pics of Disney soon as he flourishes into a healthy happy boy!
Gratefully, Team ACPB
Visit our DONATE page to help Disney now!