You are here
4 Days 4 Life
Wednesday, June 28, 2017 - 10:18am
We humans love to celebrate Independence Day with BBQ's, fireworks, and fun - but our canine friends are not as fond of the loud noises and hullabaloo. We want you to enjoy yourself while also keeping your pets safe and comfortable. Read here for some tips on pet safety for your July 4th festivities.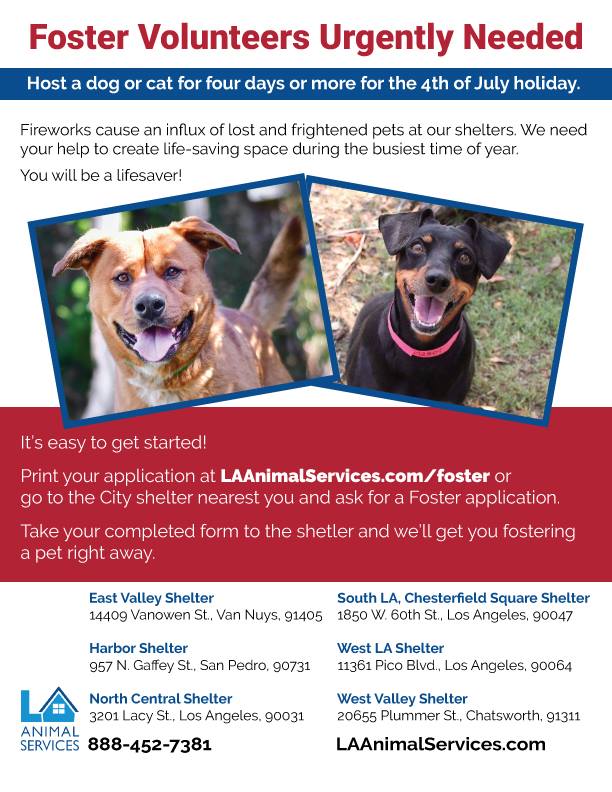 License and Microchip Your Pet
Now is the perfect time to make sure your contact information on your pet's microchip is up to date. If you have moved recently or changed your phone number don't forget to update this information. Be sure to also add a secondary phone number on your microchip account. The more information listed on the account, the better the chance you will be reunited with your lost pet.
Double check that your dog is wearing a dog tag with your contact info on it, as well as a license tag. We recommend keeping them on separate rings attached to the collar. This will ensure that if one falls off, your dog is still wearing some form of ID. Many dogs do get loose on the 4th of July due to fear from the loud noises and commotion, and having ID tags on gives them a much needed voice to get home, and can be a saving grace for your family.
You can contact any of the L.A. Animal Services Shelters and schedule an appointment to have your pet microchipped. The cost is $25 per animal.
Keep Pets Indoors
To ensure your pets are safe and sound, keep them inside and make sure if you do take them out for a break that you supervise them carefully. If you are going out, keep your pets crated or in an enclosed bedroom so they are secure. Even if you decide to hang at home, your pets may still be affected by loud noise levels, so be aware of open windows, as startled dogs may look for an escape route.
Create a Pleasant Environment
Whether you are at home with your pets, or out at a BBQ, you should create a familiar and calm environment for them. Surround them with their favorite toys and other familiar objects. We recommend filling a Kong with frozen peanut butter or giving them a yummy bone to keep them focused and occupied; the chewing can also help relieve stress. We also suggest playing some soft, soothing music at a low volume. There is even music specifically designed for keeping dogs calm. White noise, such as a sound machine or a fan is also great for blocking out loud sounds. Finally, keep a light or two so that they are not startled by the flashes from nearby fireworks displays.
Another tool for reducing anxiety is the Thundershirt - a great way to keep dogs calm. You may also consider speaking with your vet about obtaining some prescription medicine for dogs with heightened anxiety levels.
Keep Your Pets Away From Fireworks
Not only are fireworks fear-inducing to most dogs and cats, but they can also cause harm to pets if contact is made. In order to avoid any injuries, burns or possible ingestion we suggest keeping your pets away altogether.
Foster or Adopt a Homeless Pet
Shelters are beginning to make space for lost dogs and cats brought in over the 4th of July holiday. Because our shelters have a limited amount of space to take in animals, they need to create space for the dogs they anticipate receiving.
In order to help decrease the number of euthanized animals over the July 4th holiday please consider fostering, or even adopting, from your local shelter. If you are able to open your home for even 4 days, you can save the life of a shelter pet.
Please contact foster@angelcitypits.org if you'd like to become a foster parent for a dog in need. Short term or long term foster parents are welcomed.