You are here
Our Debut At Best Friends Super Adoption!
Tuesday, May 1, 2012 - 9:07am
Before the first light of dawn on an early Saturday morning, the staging began.  Trucks and caravans from all over Los Angeles ... including over a dozen different animal shelters, over 40 animal rescue organizations, and about 1,500 animals converged upon the La Brea Tar Pits.  Into Booth 41 our team descended ... signs displayed, kennel cards in place, our team of volunteers was ready.  Super Adoption is underway!  Bring on the masses, our dogs are ready and waiting to meet their new families!
C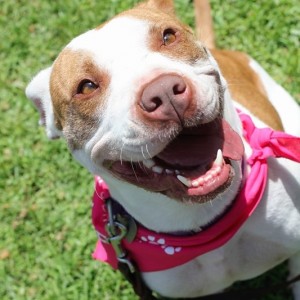 allie, Georgia, LouAnne, Penny, Mathilda, Addy, and Moose ... who could resist, right?  As it turns out - not many!  We had several adoptions during the course of the event, as well as a few that are yet pending.  As the rays of California sunshine beamed, so did those of the smiles on our dogs' faces, as they soaked in the rays along with the endless stream of affection from the many patrons of this amazing event. 
We met so many new people - fellow advocates, future volunteers, collaborators and friends.  The incredible vibe and energy served to weave the diverse canopy of everyone at the event all together - and when combined, led to great success for all the groups that were participating.  Not the least of which of those successes, were the shelter vehicles who on Saturday, arrived full ... but on Sunday evening, when all was said and done, returned back to each of their respective shelters empty of passengers!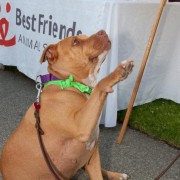 We would like to give a big "high five" for the tremendous efforts put forth by Best Friends Animal Society, their dedicated staff and volunteers, and the absolutely infectious inspiration of their mission and cause.  We were honored to be a part, and are looking forward to the next Super Adoption for certain!
Stay tuned to our website for announcements of the new dogs that have been taken into our village.  You just can't argue with math ... for every dog adopted, two lives are saved.  We'll be sharing all the happy adoption announcements soon, as well as the new dogs we've taken in as a result! 
Our village is accomplishing amazing things ... and being part of the greater village of the No More Homeless Pets Coalition and NKLA is a tremendous honor.  Thank you for your support in making these dreams come true - for us, and for the dogs as well!