You are here
Volunteer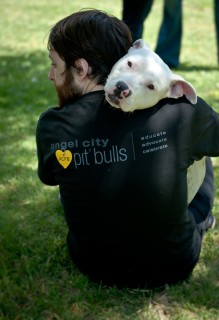 Do you love pit bulls? Want to help but can't commit to fostering? Right now our greatest need is for volunteers to help us transport dogs to vet appointments and to help at events. Our pit-savvy volunteers can even take fosters on day trips or hikes - getting them out and about while doing situational training.
We also need volunteers to network our dogs, finding homes is often a matter of exposure! So we welcome all of the help we can get with posting signs, emailing, Facebook sharing, etc. Do you have ideas for ways to network? Please share with us - we appreciate your help!
If you are interested in volunteering please complete a volunteer application and email back to Jenny at VOLUNTEER@angelcitypits.org.
Thank you!