You are here
Snow Angel
Wednesday, January 30, 2013 - 9:10am
Fall is in the air … the leaves are crisp, kids are back to school, and the nights are growing longer. Happy houses warmed by fires smell of spice, holiday planning and family visits. Not far beyond the glow are the dark alleyways of the inner city, home to many stray animals. Unable to share in the indoor life of love, warmth and a family, they do all they can to fend for themselves and stay out of harm's way.
One September night a few Samaritans happened to be driving down a darkened street in a rough part of town, and spotted a darling young pit bull running loose. Unable to look the other way, as so many must have done before, they stopped and began their search for the white-faced elusive beauty. Tried as they might, their efforts led to no fruition; solemnly, they committed to returning and continuing their efforts to find her.
Their stak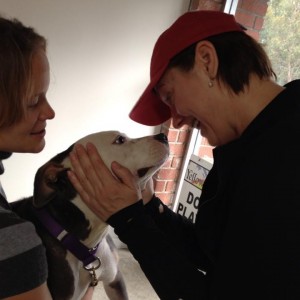 eout took more time than they had expected - a few weeks, in fact - but, they never gave up. Finally one night, they spotted her, just as she had spotted them – and at last, the success of their mission was realized. Without hesitation, the dog jumped right into their car, seemingly aware that wherever the ride would take her would be far better than where she had been.
It didn't take long for her personality to come shining through to her rescuers ... befittingly, they named her "Sweetie". Her path continued to wind its way into the world of Angel City Pit Bulls, where she was paired with a foster family, her new life underway. She now had a loving foster mother, two canine siblings, and even a feline one as well. Hiking trips, custom-made outfits, and new friends everywhere she went ... life was just getting better and better every single day.
The most epic journe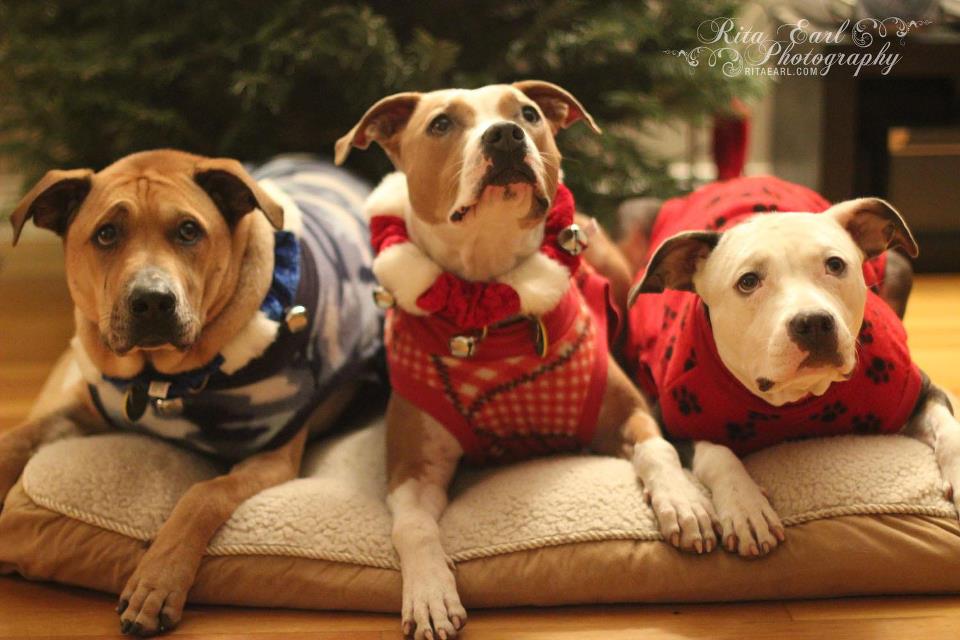 ys in life rarely transpire without a few bumps in the road, and Sweetie's path was no exception. Shortly after her new chapter had opened, it was discovered that Sweetie had chronic renal failure as a result of Renal Dysplasia, a congenital condition that would require diligent management for the rest of what would be her shortened life. Amidst the devastation of her ailment, everyone watched in awe and amazement at how Sweetie's spirit relentlessly emerged - she continued to teach us every day how to live life in the moment and appreciate all that we have.
This bump in her path was a big one, but it didn't get in the way of Sweetie finding her forever home. Soon after the news of her diagnosis, it was clear that her search for a home had already been completed – she was right where she belonged, with her foster siblings and a mom who would do anything for her. Almost as though Santa had come right down the chimney to deliver the news himself, her greatest wish came true – she had a family of her very own.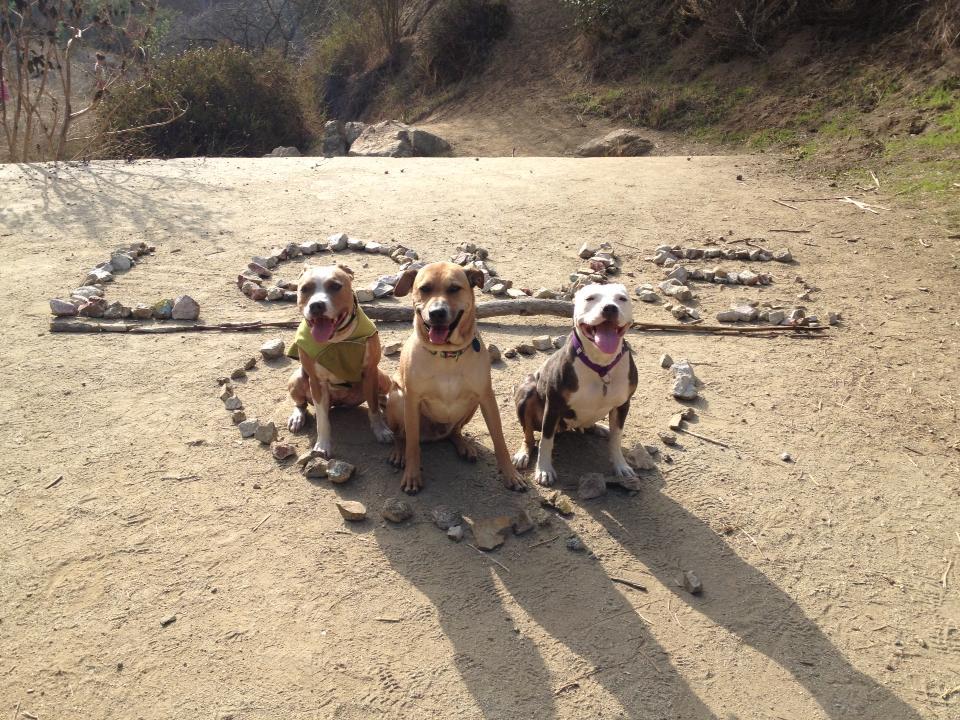 The holidays were jam-packed with tidings of comfort and joy for Sweetie – countless visits from friends and admirers, home-cooked meals, presents and adventures galore. Hiking in Runyon Canyon, the Hollywood Hills or around Griffith Park would have very likely led your path to cross with hers, as these quickly became her favorite haunts. On a beautiful California winter day with the sun high in the sky, Sweetie got to make a trip to the beach, seeing the ocean for likely the first time. There were no moments to be had where Sweetie did not savor them to the utmost – chronicled in the myriad pictures and videos capturing her every ecstatic adventure and discovery.
If there ever was a testament to living in the moment, it was Sweetie and her unstoppable zest for life and all it had to offer; in its own bittersweet way, this proved to be more than your average blessing as her health continued to steadily decline. Good days were intermingled with tough moments, and when the latter outweighed the former, Sweetie let her mom know it was time to let go. In the eloquent pen of Fiona Apple, when speaking about her own dog ... the time came where Sweetie was ready to stop being a dog, and instead, become a part of everything.
And that is what she is now … she is the wind, she is the snow, she is the sun on our cheeks and the stars in the sky. She is the fragrant flower, a tender bloom rooted firmly within all of our hearts. She is the teacher of how to treasure all things precious and the importance of not wasting a single moment on regret or despair. Much more than that, also, she leaves us all a bit changed. You see, there are many dogs out there just like Sweetie, living their lives on the street. She taught us to not look the other way.
"Never, never be afraid to do what's right, especially if the well-being of a person or animal is at stake.
Society's punishments are small compared to the wounds we inflict on our soul when we look the other way."
- Martin Luther King, Jr.
The compassionate example that was set by her rescuers and the village that surrounded her serves as the most fitting legacy, to inspire us to do what we can to make the world a better place - not only for the many dogs just like her, but for the humans who love them and benefit from their unique brand of wisdom. Her doting and devoted adopter made a beautiful tribute video honoring her, sharing her spirit and zest for life with all of us.  May Sweetie's story plant a seed, in each of our hearts - to nurture our community together, to do what is right, and to never find ourselves looking the other way.
- Eve-Marie