You are here
Volunteer Spotlight: Peggy
Monday, May 14, 2018 - 8:53pm
Peggy has been an Angel City volunteer since 2010. Read more about her experiences as part of our team as a Team ACPB captain, pack hike leader, foster parent, and Hurricane Harvey responder!
When and how did you first get involved with ACPB?
I was a longtime mobile adoption volunteer for Best Friends. In 2010, when ACPB was just getting started, they would sometimes join the same mobile adoptions as Best Friends. I was also the dog walker for two of ACPB's earliest volunteers and fosters, and so I began walking ACPB dogs as well. Of course, it didn't take long before I was taking in a foster dog here and there as well, and next thing I knew I was a regular volunteer at ACPB's monthly adoption events.
You lead our bi-monthly pack hikes--how did those get started?
About 6 years ago, I met a new ACPB foster. She had some questions about one of her foster dogs, and we started chatting and decided to take all of the dogs (hers, mine, and her foster) on a hike together. Before I knew it, this became a daily ritual for our dogs, and whatever foster dogs we had at the time. This often mean we had 5 or 6 dogs between us, and while we were seasoned handlers and had it under control, there were times when it seemed a bit much. So we started to invite others to come along to help handle the dogs. Then, on Thanksgiving Day 2012, we invited a bunch of people and all the foster dogs for whom we could find rides, and had our first official ACPB pack hike. I think we had 12 dogs there, and we were so impressed with ourselves (these days we often have 30-40 dogs along on our hikes). Within a month or two we started offering the hikes on the 2nd and 4th Saturday of the month, and coordinating rides and volunteers to get as many of our dogs as possible the hikes. Over the years we've learned a lot, for example, many of our dogs can't handle even a mildly warm day on the trails. So we found a flat route that we could weave in for days when it's too hot, or sometimes just days when we want to get as many dogs as possible out for some leash socialization. And now we're super hi-tech with our portable speaker for pre-hike announcements, and walks to keep the group from spreading to wide and to alert each other of "hazards" up and down the trail.
What has it been like being a team captain for the ACPB Marathon team? Have you always been a runner?
I've run off and on since high school, though I took the majority of my 20s off and didn't run my first marathon until I was 30. I thought it was going to be a "one and done" thing. Then, about 8 years later, a handful of us from ACPB ran a half marathon, and all of the sudden I was hooked on running again. Next thing I knew, we were an official charity partner of the 2014 LA Marathon, and I knew I had to run the full, even though I could easily have run the relay. My dog Roo (not an ACPB alum, but kind of honorary since she was the dog I was fostering in 2010 when I was introduced to ACPB) did most of my training with me that year and in 2015. She's since retired from longer distances due to a foot injury and loss of interest in running. I really enjoy being a coach/captain for Team ACPB, because it gets me out there and I've made some wonderful friends and met a lot of incredible dogs. I used to be a very solitary runner, but running has become so much more fun since I've started running with friends and dogs.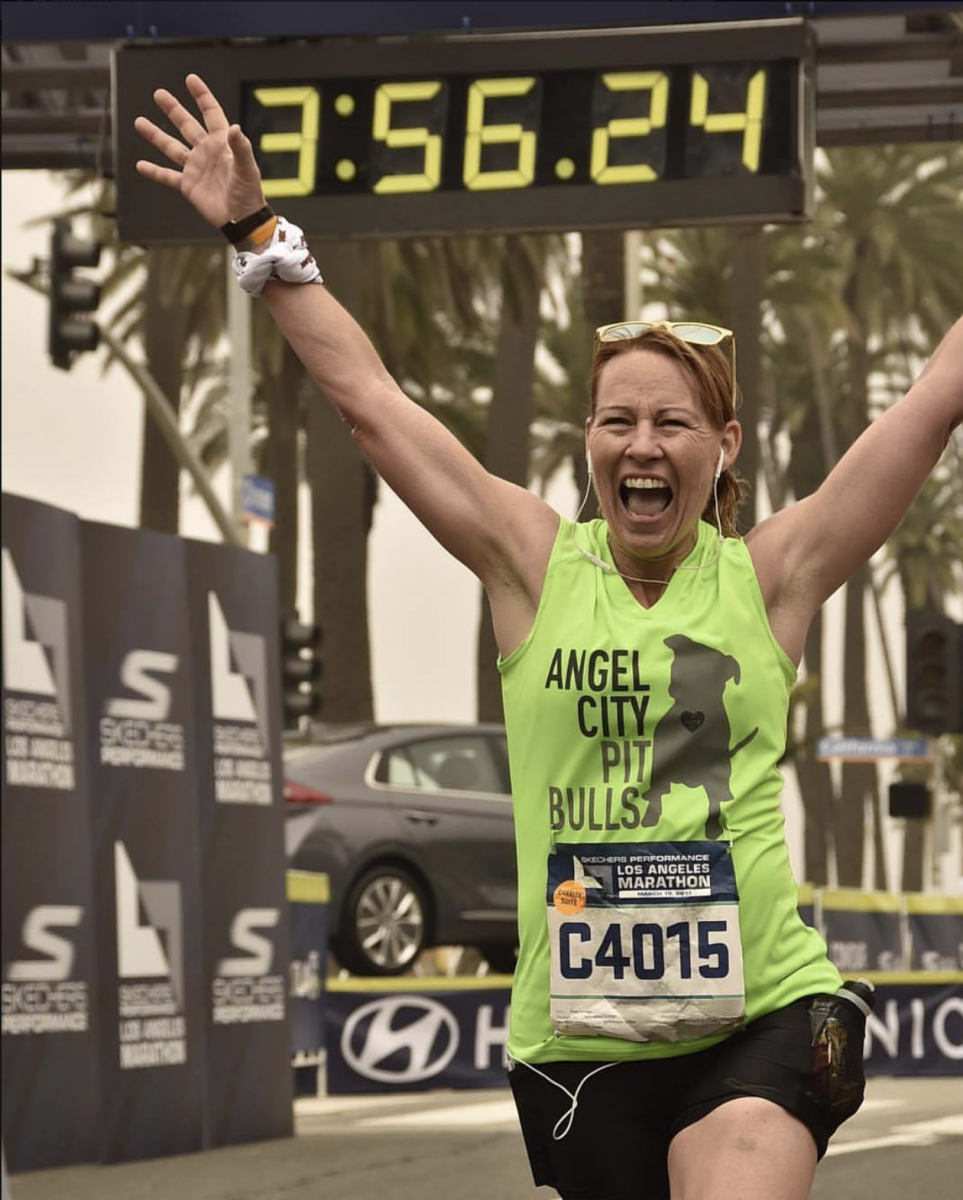 After your breast cancer surgery, with the LA marathon quickly approaching, it would have been easy to sit it out. How did you decide to run this year, and what motivated you?
Yes, I definitely had an "out" for this year's LA Marathon. My surgery was February 1st, just 6 weeks prior to the LA Marathon. I didn't even know if I would be allowed to run in 6 weeks, let alone run a marathon. But I was anxious to return to "normal." Upon the advice of another woman who was also a runner who had a mastectomy, I trained right up to the date of my surgery as if I was going to be running a marathon that day. So, I was in pretty good shape. They told me walking was helpful for recovery, so I started walking around the block as soon as I came home (which was the next day). And by the following weekend, I was ready to start going on longer walks. I joined the pack hike, and then I joined my Team ACPB teammates when they went out for their long runs, and I would just walk for an hour or two. I was still the coach, and I was still mapping out their routes each week, offering training tips, and checking in with them about their training, so I had some serious FOMO. I felt like I needed to meet up with them, even if I couldn't run. Also, I was still fundraising, and I wanted to be honest with my donors. I let them know just how hard I was working for the sake of the dogs. And then, to my surprise, my surgeon gave me the ok to run just 19 days after surgery. I specifically asked "can I run a marathon in a few weeks?" His response was "as long as it doesn't hurt, go ahead." I wasn't able to do the full training, as I needed to ramp back up conservatively. My husband didn't realize I was planning to run the marathon until one week before, and was very concerned. He made me promise to drop out at the slightest hint of something being wrong. So, the morning of, I wasn't even sure if I could finish, but I knew I was at least going to start. Thankfully, I felt pretty good the entire way, and crossed the finish line with a smile in my face!
How did you end up going to Houston to assist with Hurricane Harvey relief efforts? What was that experience like?
Houston was incredible. I remember seeing news reports about the devastation and thinking to myself that I'd really like to be able to help. And then, magically, I got a call from Katie, our Executive Director, asking if I wanted to join her in Houston, THE NEXT DAY. I think I packed everything but the kitchen sink because I didn't know what we would be doing or where we would be. It was a little overwhelming. We spent the first afternoon just going through the Austin Pets Alive storage area and piecing together crates that could be sent off to those on the front lines. On Day 2, we landed in Conroe at the Montgomery County Fairgrounds, which would be our makeshift shelter for the next 10 or so days. There were maybe 12 dogs and a handful of cats there when we arrived. That first day was spent just creating a location "system," assembling kennels and preparing an organized grid. It was pretty incredible to watch that entire space fill with animals in such a short time. Of course, everyone envied me, because I somehow landed the job of managing "puppy land." Once there, it was best that I stayed in that area, to avoid possible contamination from adult dogs who could be carrying diseases for which the youngsters hadn't been fully vaccinated. We worked pretty long days--often 6 or 7 am till 10 or 11 pm, and I was basically crawling around cleaning up poop all day. But I also got to see the puppies whisked away by amazing rescue groups, which was fantastic, and then I even got to drive 4 (and their mom!) back to LA with us.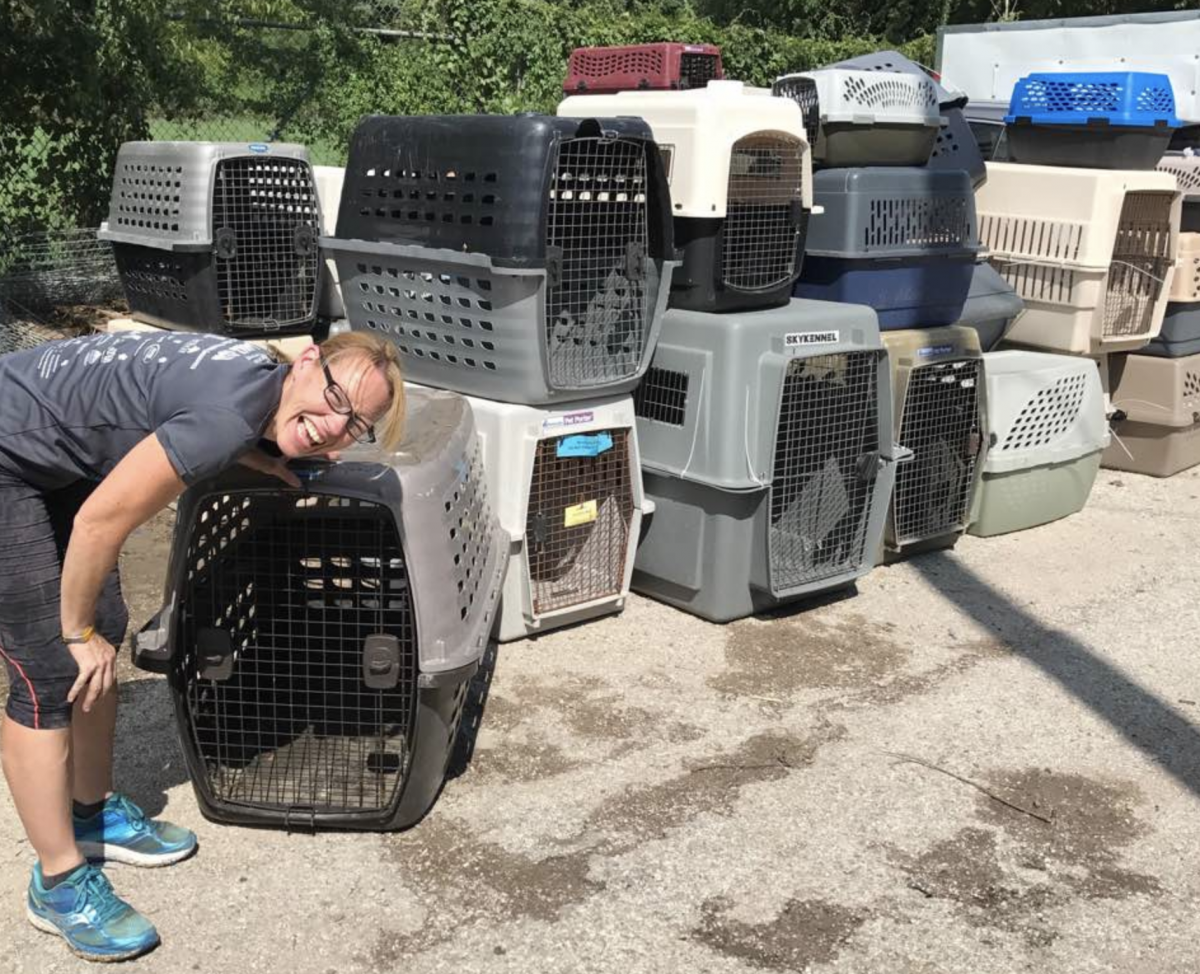 What do you find the most rewarding and the most challenging part of volunteering?
I have loved dogs all of my life, and have always wanted to own ALL the dogs, which of course is impossible. Volunteering allows me to meet so many incredible dogs, all with different personalities, and they each occupy a little piece of my heart, so I kind of get to feel like I own ALL the dogs. Or they own me. Probably the latter. To me what is challenging is the heartbreak of not being able to take every dog into our program. We have grown significantly since the early days, and we have made incredible strides in LA towards increasing the save rate of dogs, including pit bull type of dogs, but of course, we live in a society of instant gratification so it's hard not to hope to see things change much faster. But when I start to feel a little down, I just look back at the faces of all of the dogs we have saved, and all the happy families who love them, and I know the work we do is making a difference, and at the end of the day, that is what matters.
What's been your most memorable ACPB experience?
It's hard for me to pick just one memorable moment. Perhaps the most influential moment was when I had brought my own dog Duval along to an event ACPB was hosting to show off breed ambassadors. We were talking about therapy dogs, and Katie (ACPB Executive Director) asked me why Duval wasn't a therapy dog. I had never really considered it, because while he was an incredibly friendly and social dog, I had never really worked on training him to pass the Canine Good Citizen test (the first step in certification) let alone any sort of therapy dog tests. Duval REALLY loved food, and could occasionally get vocal when excited (especially about food) so I had been hesitant. But that day Katie and others encouraged me to pursue therapy certification with Duval. I did, and he passed with flying colors (we didn't even have to work that hard) and he went on to spend a few years as a Reading Education Assistance Dog, going to schools in South LA and listening to 1st and 3rd graders read to him. These were kids who had almost no interest in reading/learning until Duval entered their lives, and then all of the sudden they started working hard to earn the right to stay after school to read him a story. Our favorite story was probably if you give a Moose a Muffin. We jokingly wrote a few lines of "If you give Duval a Donut" (did I mention he LOVED food)? If not for ACPB I may have never taken that leap with Duval, and watching those kids grow was one of the most rewarding experiences of my life.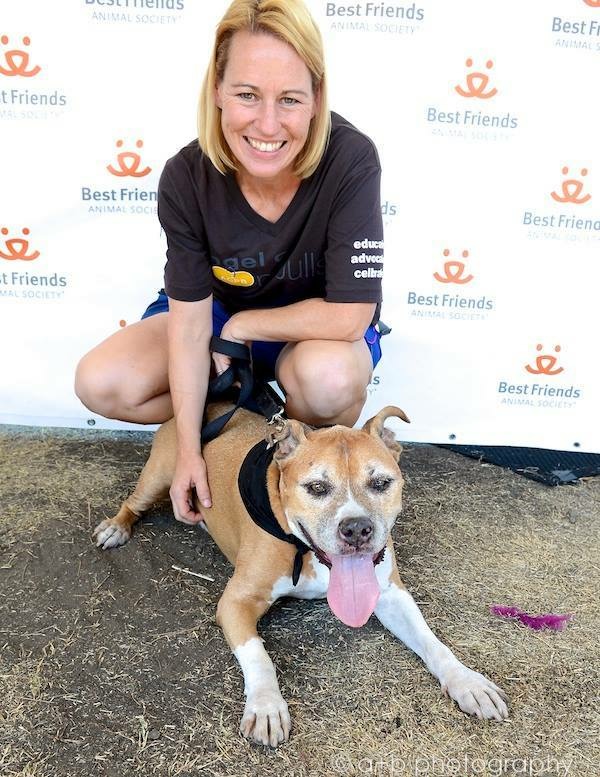 You dedicate so much time to ACPB--do you ever get burnt out?
There are times when I feel a little burnt out--when I am just plain out of ideas to share on the Facebook page, or when the pack hike seems so overwhelming and I just want a weekend off. And that's when I know it's time to call on some of the other volunteers at ACPB to temporarily pick up my slack while I recharge my batteries.
What would you say to someone who's on the fence about getting started volunteering?
Volunteering can seem overwhelming, because you are often taking a jump into something you've never done, with people you've never met. If it helps to motivate you, encourage your friends to join you the first few times, to help ease you in. But otherwise, just keep an open mind and be ready to do whatever work is asked of you. Sometimes the task you are asked to accomplish may seem small, but all those little things add up to something big, and non-profits need as much help as possible with those little things because we don't have any paid staff to help. Jump in with a smile on your face, and be ready to make some new friends (both two and four legged). Some of the best friends I have today I met through my volunteer work.
Thank you Peggy, for everything that you do!