You are here
Volunteer Spotlight: Alyssa
Sunday, August 12, 2018 - 6:56pm
She's a full time student with a busy summer schedule--and now she's an Angel City Pit Bulls volunteer! Meet Alyssa, who volunteered her time with us this summer at our Jefferson Park facility.
When and how did you first get involved with ACPB?
I got involved with ACPB in May of this year. When I came home from school for the summer, I was looking for something fun and fulfilling to do before my research program at USC began. I had my heart set on fostering a dog, but my parents weren't quite ready for that commitment, especially since I would be moving into an apartment on USC's campus for the majority of the summer. I figured I could still get involved through volunteering. I looked at several shelters online and was inspired by ACPB's mission. I could tell they really appreciated their volunteers. Plus, I absolutely love pit bulls!
What made you decide to fit volunteering into your summer in LA while you're still in school?
Personally, I think I would go crazy if I didn't have some type of way to get involved with my community. Duke is a tough school, and it can be so easy to lose sight of why I'm working so hard and pursuing such a challenging major (chemistry). Volunteering really puts things into perspective and reminds me that life is all about making connections with others and helping those that need it the most. It reminds me that I work hard so that I can be as well-equipped as possible to make a difference. Also, volunteering is so fulfilling and the people who work for non-profits are often some of the best people you'll ever meet.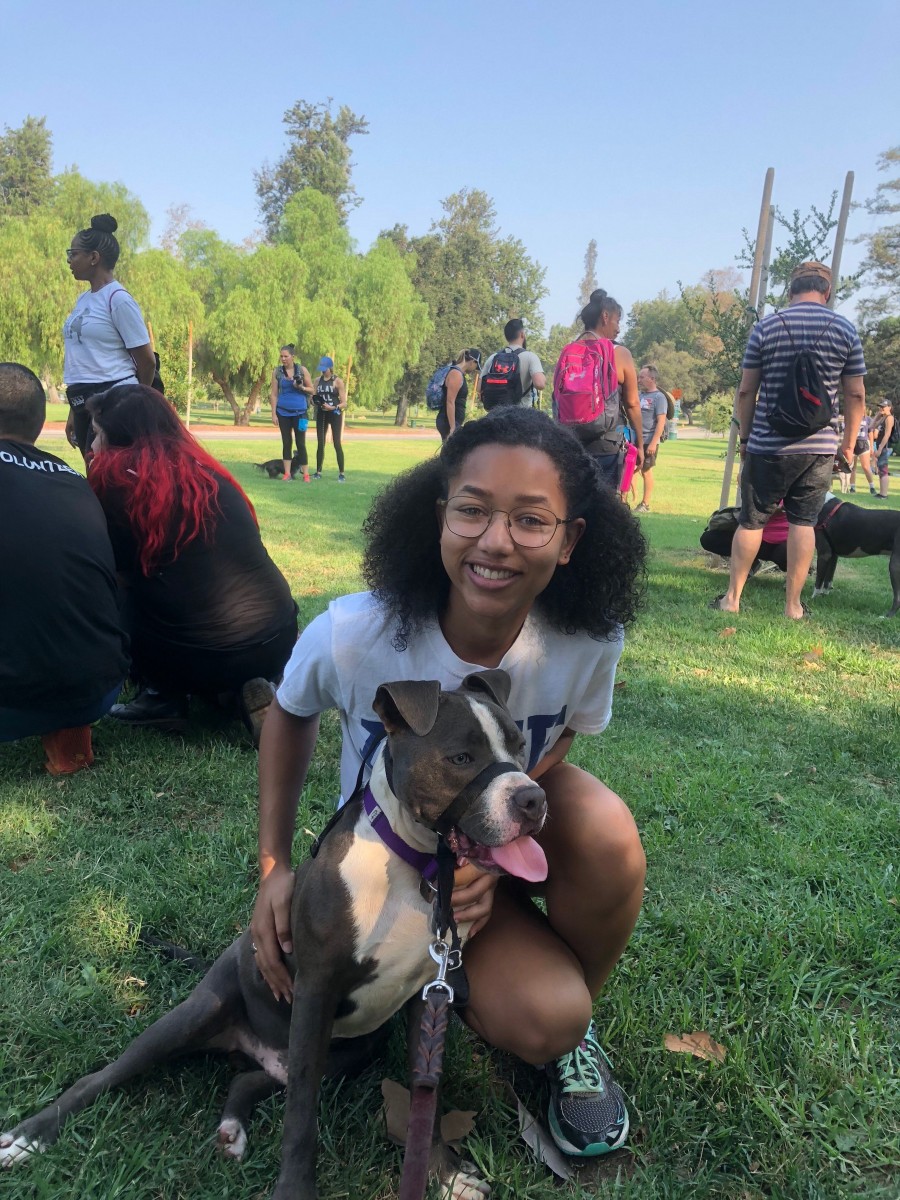 What do you do as an ACPB volunteer?
As an ACPB volunteer, I spend a lot of time working at the Jefferson Park Center. That usually involves walking, feeding, and giving the dogs lots of love. It also includes general up-keep of the center. However, sometimes I get to take on extra fun tasks like giving the dogs baths and cleaning the earwax out of their ears. I even cold compressed TJ's scrotal region after he was neutered. I definitely get my puppy fix every time I visit the center.
What has it been like volunteering at Jefferson Park?
Volunteering at JP is so much fun because there are usually so many dogs to hang out with. A lot of ACPB pups spend time there, so it's a good place to meet the dogs and get to know their personalities. I also get to meet awesome people that love dogs as much as I do. We've really formed our own little JP crew.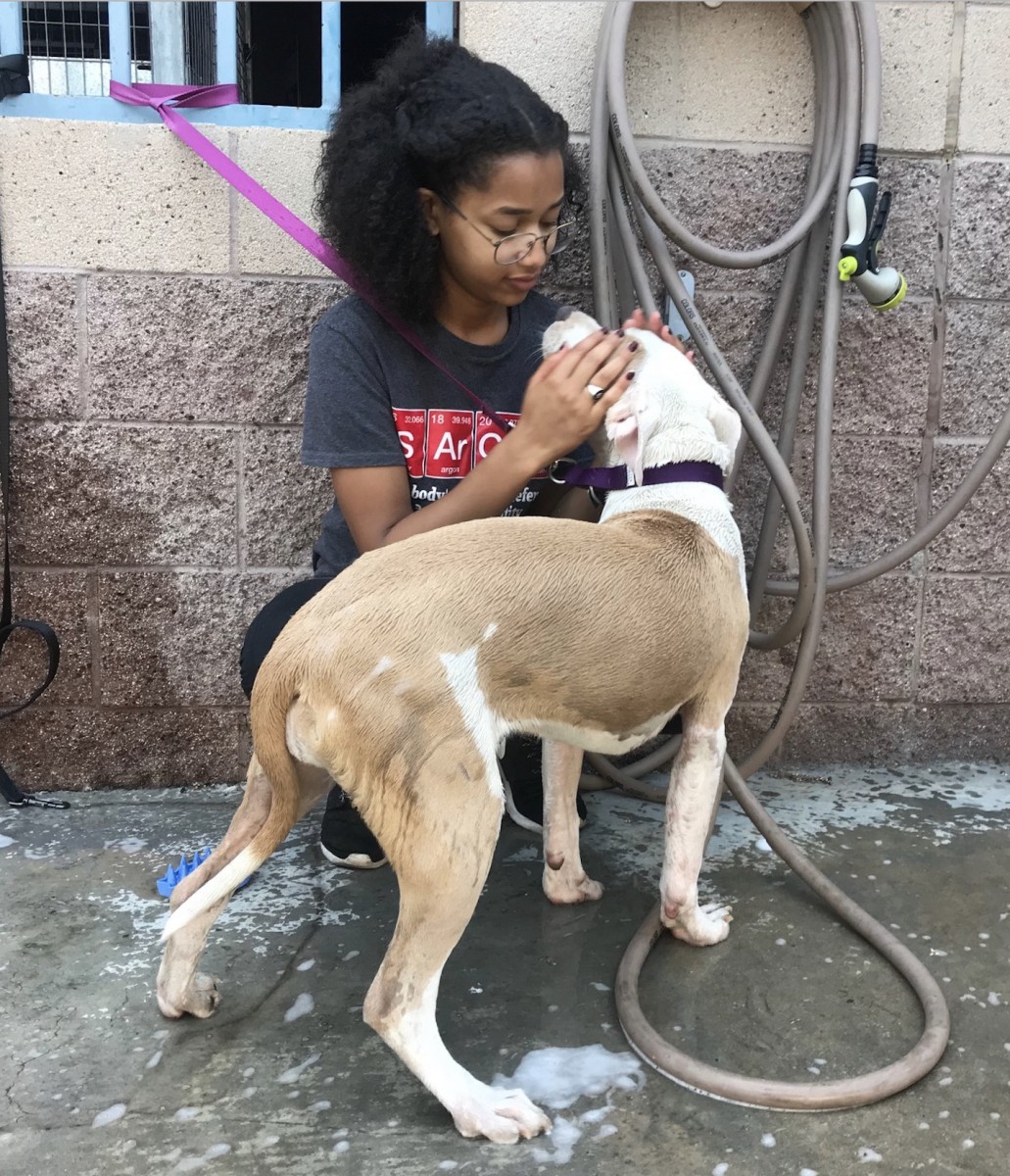 What's been the best part of volunteering? The most challenging?
The best part of volunteering has been getting to know the dogs and being an advocate for pit bulls. I've always loved the breed and have tried to shut down stereotypes as much as possible, but people haven't always taken my word for it. Now I have countless stories of ACPB pups (with pictures and videos) that I can use to show people what the true nature of pit bulls is. I've gotten to know so many special dogs this summer. The most challenging part, on the other hand, is realizing that volunteer work often does not result in immediate gratification. It is really frustrating to hear people talk about how dangerous they think pit bulls are or see injured dogs as a result of irresponsible ownership. It's a constant reminder that there is still so much work that needs to be done.
What would you say to someone who's on the fence about volunteering?
I would tell them that they just have to try it. It's such a special experience, especially when you're working for a cause that you're passionate about. You will meet the most genuine people and gain such valuable perspectives. It's one of the best ways to get to know your community, and your help is needed!
What has been your most memorable ACPB moment?
I don't think I can pick just one, but my favorite memories definitely involve the transformations I've witnessed, like seeing TJ come out of his shell, or watching a heartbroken Rocky find love in each volunteer, including his new mom. One transformation that really sticks out is seeing Stacy regain her strength while battling cancer. I'm lucky to have met such brave and loving dogs.
Thank you, Alyssa, for spending your summer with Angel City Pit Bulls! We hope to see you again next summer!
Ready to become a volunteer? Sign up today!