You are here
The Real Pit Bulls of Orange County
Tuesday, June 5, 2012 - 8:57am
As the crowds descended upon the award-winning Irvine Animal Care Center, 100 shelter and rescue groups with their 800 animals looking for homes were poised and ready.  For the first time, Angel City Pit Bulls was among them!  While we are a Los Angeles based organization, our reach has expanded South quite a bit.  We've had several adoptions in Orange County - including some who we met while attending this very event in years past.  We were excited for this opportunity to showcase our dogs, make new friends, and spead the word about our cause. 
Guests of the event were treated to a wonderful day.  There were animals of every shape and size, a wide variety of vendors, and plenty of foot traffic by families looking to find their new furry friends.  We received an application for adoption for one of our dogs within the first 90 minutes of being at the event!   It was a true joy to see so many families there with their own pit bulls, showing off their pride as beloved family pets ... especially when that pride incl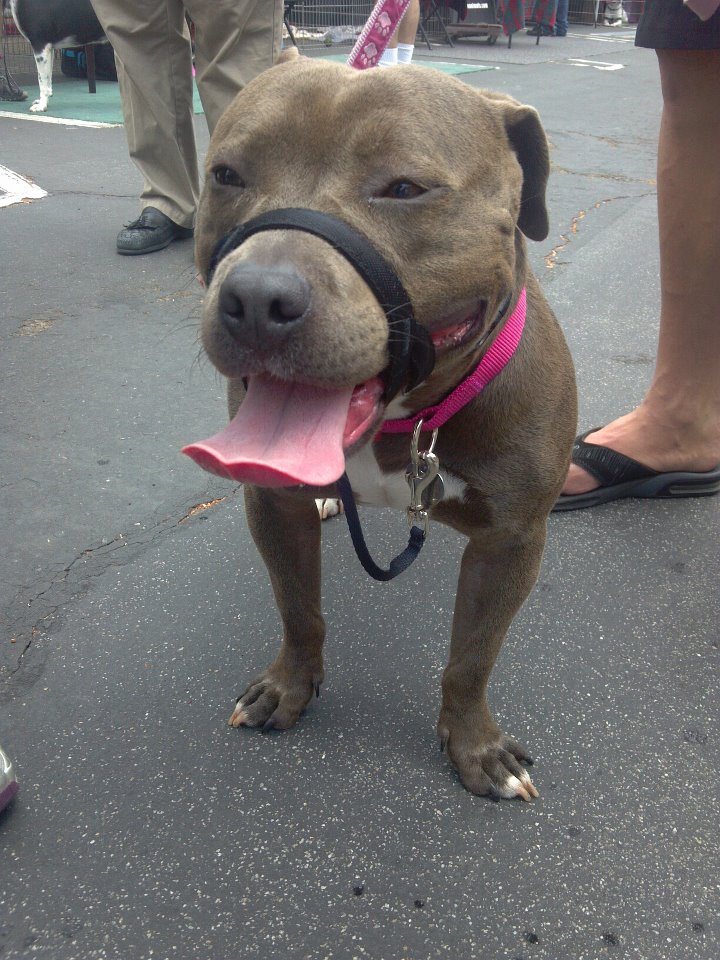 uded adding a pit bull sibling by adopting one from this event! 
One of the great highlights of our day was the visits from our alumni.  First came Tillie ... adopted just over a month ago by her family, who say now how they cannot imagine life without her.  All smiles, Tillie posed like a star in front of the many cameras taking her picture - not the least of which was the news camera for NBC that caught some footage of our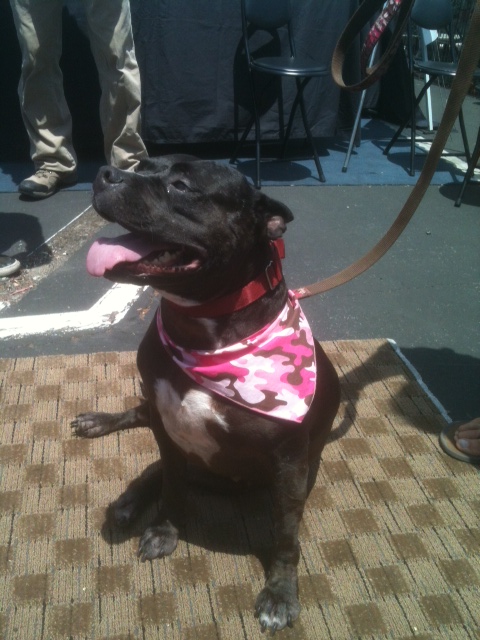 booth!
Then there was Olive, who was adopted one year ago almost to the day.  Olive is living quite the life these days, in her hilltop home by the sea.  She even has a new friend of her own ... her family adopted a cat!  Olive continues to charm everyone she meets, and definitely soaked up the love not only from our team, but from the many passers by who could not resist her wiles.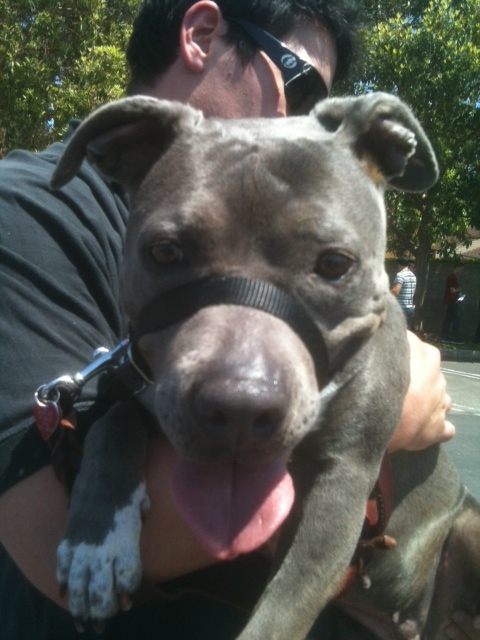 Soon after we were paid a visit by Phoebe ... now fully recovered from her surgery, she is being pampered and spoiled as she absolutely deserves.  She's the next door neighbor of another one of our adopters, which makes her as much extended family as it does an alum.  We were so grateful that she was able to come to the event and visit; she had an opportunity to meet some of our team for the very first time!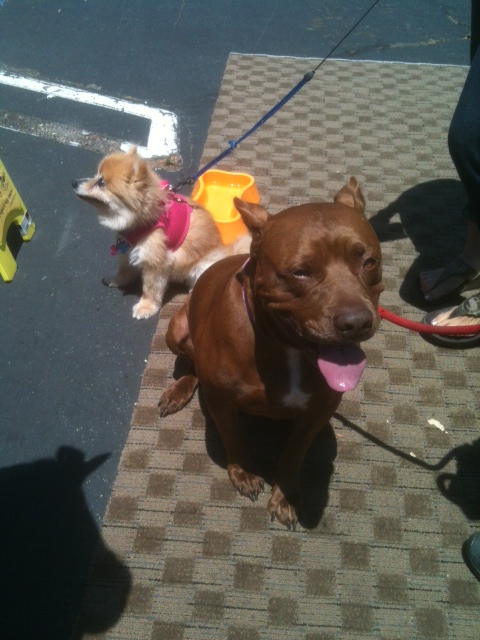 Our last alumnus to visit was Hope.  When she approached the booth, with her 17 year old Pomeranian best friend in tow, there was not a dry eye among us to be found.  You see, when Hope first came to Angel City Pit Bulls, you could see her ribs; it had been some time, we imagined, since she had a good meal.  She was well on her way to recovery over the holidays, when she was adopted; her path to healing has been continuing for these many months, evidenced by her beautiful shiny coat, her healthy stature, and her glimmering smile.  When we saw her, for the first time since she had been adopted back in January, her beauty took our breath away.  She has a glow about her that we wish that we could bottle and sell!
(While it can't be bottled, we do know the source ... its the magic formula contained in the love of a forever family)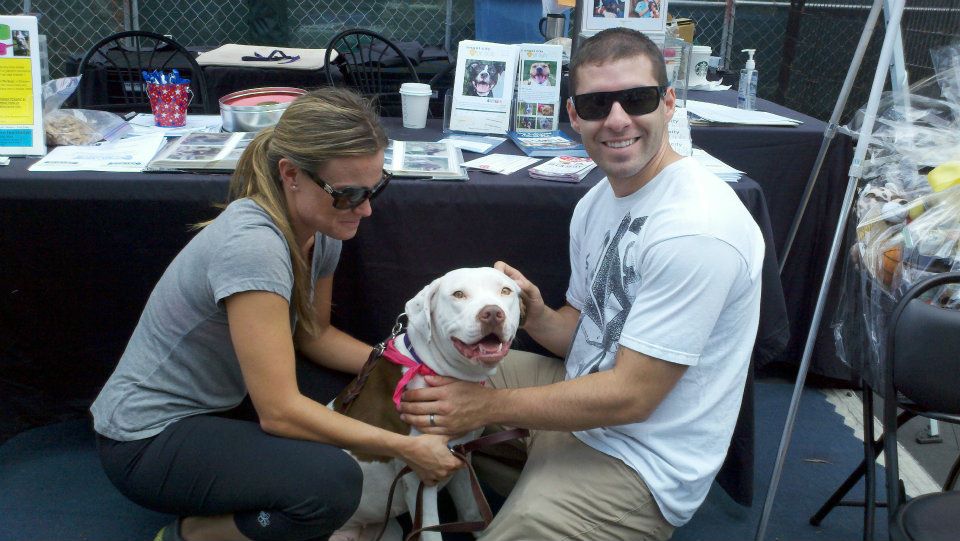 In the spirit of ending on a high note, the event concluded with delivering Luna to her new forever family.  We first met Luna at Best Friends Super Adoption at the end of April ... if you are not familiar with the math associated with adoption, the simple formula is this - "adopt one, save two."  When you adopt an animal from a rescue, you help save not only that animal, you pay it forward by saving the one that will be taken in as a result of the foster space that has been created.  This idea proved cosmic ... because the dog that was adopted who created the space for Luna, was none other than Tillie.  A magical moment it was, for Luna and Tillie to meet, nose to nose, and for Tillie's new family to see the "adoption equation" as it comes full circle.   
The real pit bulls of Orange County are thriving, spreading their exemplary joy everywhere they go!  
There were almost 350 animals adopted at the event - by our math, that is a tremendous success!   Thank you again to Dr. Agostini and San Clemente Veterinary Hospital for their generous sponsorship of us in support of our presence at this event.   We will definitely be back in Irvine when this event is held again in December!