You are here
My Cartoon Dog
Monday, July 2, 2012 - 9:37am
As a pit bull lover who makes her living in the world of entertainment, I am always delighted when I see a TV show (or movie, commercial, or print ad) that features a pit bull in the same way I see the breed: as a loving family companion. So, you can imagine my joy when the creators of the cartoon series on which I regularly work, Young Justice, presented me with designs for my character Artemis' new doggie, who just so happened to be a pit bull. I immediately started laughing and crying at the same time when I saw the big ole' head and thick, snuggly body - colored all white - looking not just like any pit bull, but in fact, my very own giant marshmallow of a dog, Brucely.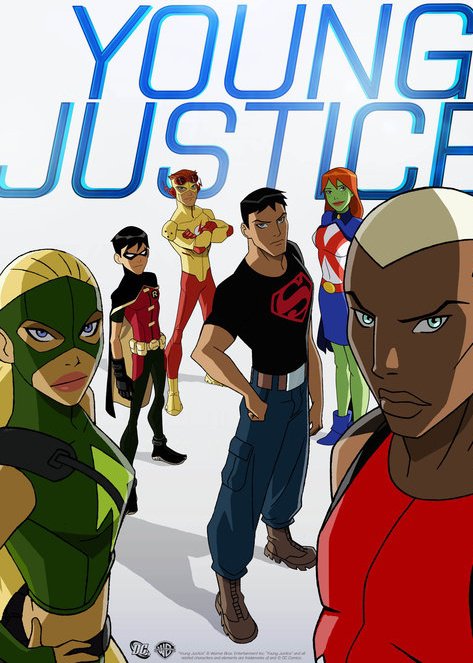 My husband and I adopted Brucely from Marley's Pit Stop Rescue almost 9 years ago, when he was just 3 months old, and he is most certainly our first baby. At the time, we had just moved in together; it was early in our relationship as well as our entertainment careers. Looking back, I am amazed at how much has happened in our lives since then, and how much we have grown, both as individuals and as a family. Brucely now tops the scales at around 80 lbs, but back then he was a tiny white puppy with floppy ears and an amazing smile, and no family yet to call his own. See, our Brucie was originally found left tied to a pole, and subsequently taken to the South Los Angeles Animal Shelter. There he sat, like so many other wonderful dogs with an uncertain future - 'just another pit bull' with a limited shelf life in an incredibly crowded shelter. Thankfully a woman named Elizabeth, inspired by the love of her own adopted pit bull, had a habit of walking the halls and taking home a few homeless pets at a time, to foster until they were adopted. Though we shudder to think of our Brucie as ever having been a statistic, we are also aware that his story inspired so much of what we do now. We are grateful every day that our baby was one of the lucky ones ... and we vowed when the time was right, we would pay it forward.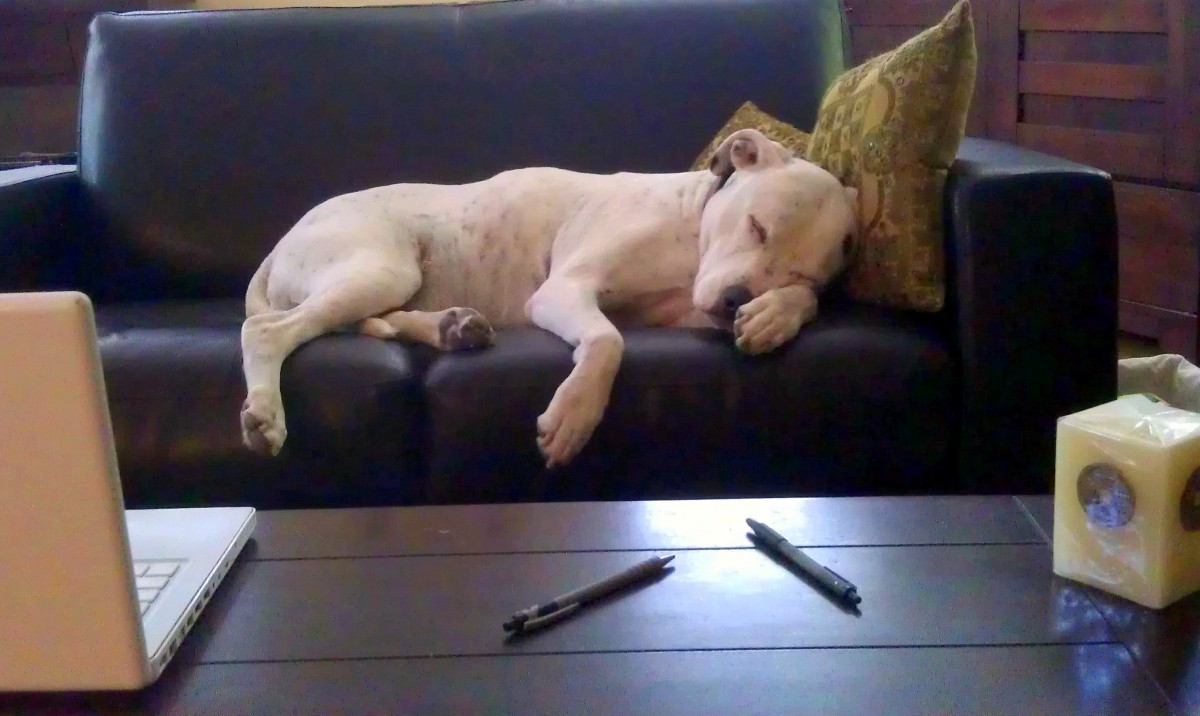 Since then, my husband and I have become familiar faces in our local animal shelters, volunteering alongside caring staff and tireless volunteers, helping to network the many adoptable animals waiting to find their forever families. And since we always fall in love with pit bulls, we seemed destined to join the board here at Angel City. Together, we have fostered more dogs than we can count (and of course, adopted another one along the way!) and it has been incredibly rewarding. However, it wasn't until my particular job of working on Young Justice that my personal and professional life truly merged. I now have to thank the very talented and kind showrunners Greg Weisman and Brandon Vietti (both of whose families are also proud parents of rescued dogs) for giving me one of the greatest gifts I have ever received - the experience of watching a cartoon version of my beloved doggie on TV doing what he does best - sleeping peacefully in a ball on the living room couch.
For someone who knows and loves pit bulls, seeing a positive representation in the media that reminds me of my own experience is exciting. Seeing one on television, actually designed after my own? Priceless.

Stephanie
Brucely's real (and cartoon) momma