You are here
Foster Friday: Foster Failures and Happy Adoptions
Friday, May 4, 2012 - 8:53am
Here at Angel City Pit Bulls, we are no strangers to the term "foster failure." In fact, almost all of our core members and most devoted volunteers can be crowned with this title. Now, if you do not know what this means, don't be alarmed - no parties involved are actually FAILING at anything. There are actually a lot of good, happy things going on for both dogs and people.
Within the rescue community, the term "foster failure" simply means that you are adopting the animal you brought into your home to foster. Sometimes when you bring a dog home with every intention of preparing them for their forever family, you just don't realize right away that this dog is already in his or her forever home. It happens; it doesn't mean you have failed, it just means that you have saved another life and gained a new member to your family.
Recently we've had several of these "foster failures", one of them being our young boy Linus. Angel City Pit Bulls met Linus while volunteering at the Baldwin Park Shelter, and we thought he would be adopted quickly. He is a happy-go-lucky guy with lots of love to give. A few months went by, and still Linus had not been adopted. This dumbfounded not only us, but also his foster family. They just loved him SO much that they couldn't see why people weren't jumping at the chance to bring Linus into their family.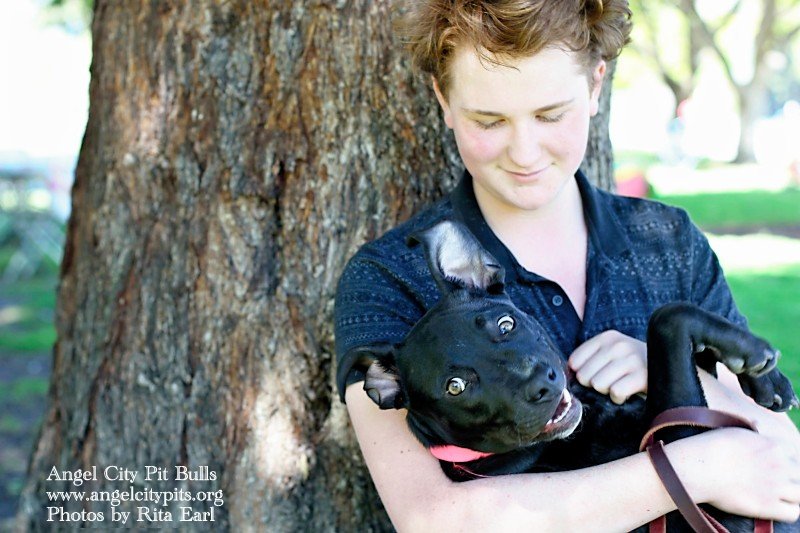 Then came the Best Friends Super Adoption; Linus's foster family couldn't imagine returning home without him after the weekend, and decided to officially adopt. That was when we all realized, that the reason why he hadn't gotten adopted before … was because Linus was already in his forever home!
Not only is Linus a great dog, who now has a new, loving family, but he is also a black-colored dog. For reasons attributed to outdated myths and the color of their fur, black dogs have a harder time getting adopted and are often overlooked. What Linus' new family knows - what we know, and what anyone who owns a black dog knows, really - is that all dogs are individuals. The color of a dog's fur has no correlation to their desire to be a loving family pet!
This month we are celebrating the adoptions of black dogs everywhere – including Linus - as we participate in Best Friends Back in Black II. Through this campaign started by Best Friends, we are offering 50% reduced adoption fees on all dogs who happen to have black fur! Our other black dogs include Georgia, Dove and Nemo. Come meet all of our dogs this Saturday at the Sepulveda Basin Dog Park – your new family member could be there waiting to meet you!
Congratulations to Linus and his new Forever Family!