You are here
A Marathon Adoption Success
Thursday, February 21, 2019 - 2:46pm
When Krystle and Richard adopted Sallie (formerly known as Frances) as first-time dog owners one year ago, there were a few times they thought they might be in over their heads. They had always been cat people. Richard wanted a dog for years, but they were completely devoted to their cat, who wanted to be an only child. Richard found ACPB on Facebook, and decided that someday when they did adopt a dog, he wanted a pit bull. Per Krystle: "After our cat passed away, it was the first time in more than 30 years that I was without a pet. Even though I was grieving, I realized that I needed a pet in my life, even if I wasn't completely emotionally ready. I just needed a companion to take care of and to give me purpose. I saw Sallie/Frances pop up on the ACPB website and was immediately interested because of her personality, size, and adorable picture. We met her at a pack hike ... and I felt a connection with her when she leaned against my leg after the hike. "
Sallie is cute-as-a-button, and good with cats, so she seemed like a natural fit. However, she can also be quite strong for a petite dog. On leash, there were times when she would go over threshold at the sight of another dog, and become a bit difficult to handle. Not exactly what most first-time dog owners are prepared to manage. However, with time, love, lots of support (from family, friends, ACPB's Academy trainer Brittany, and ACPB's alumni support), and a lot of hard work by all three of them, Krystle, Richard, and Sallie learned together, bonded and figured out how to make the relationship work. And they are so thrilled they didn't give up on her!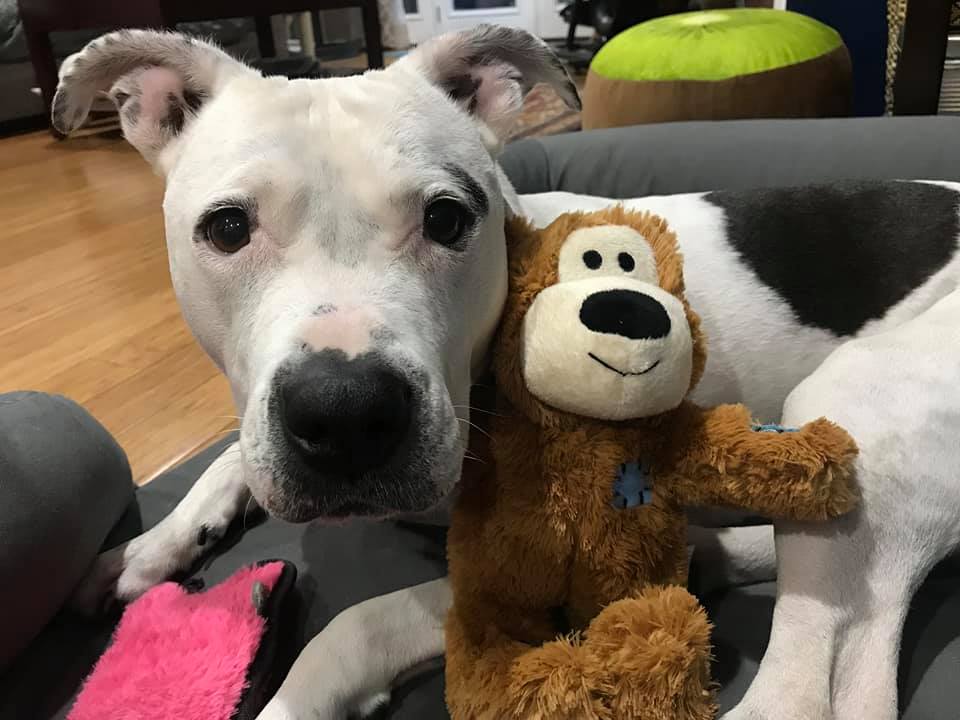 Here are just a few of the things Sallie did in her first year with Krystle and Richard: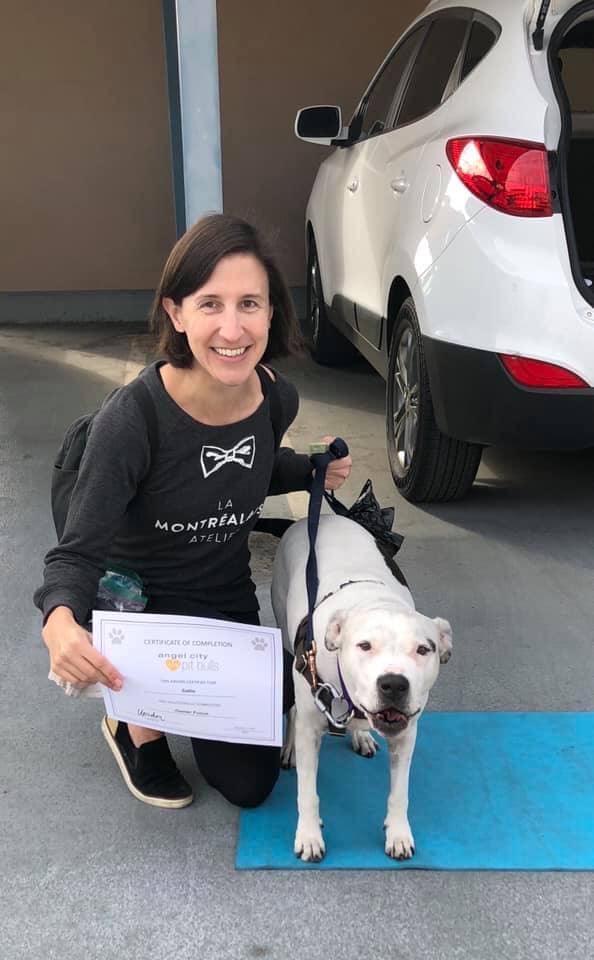 Trained, a lot (private sessions, ACPB Academy classes, and even learning fun tricks)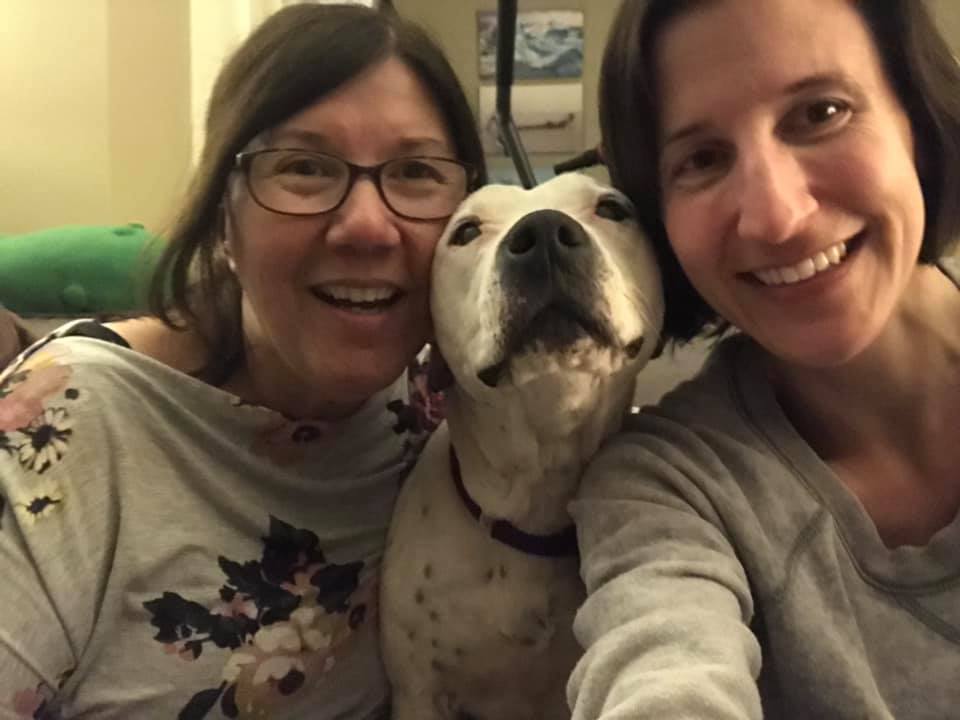 Changed her Grandma's opinion about pit bulls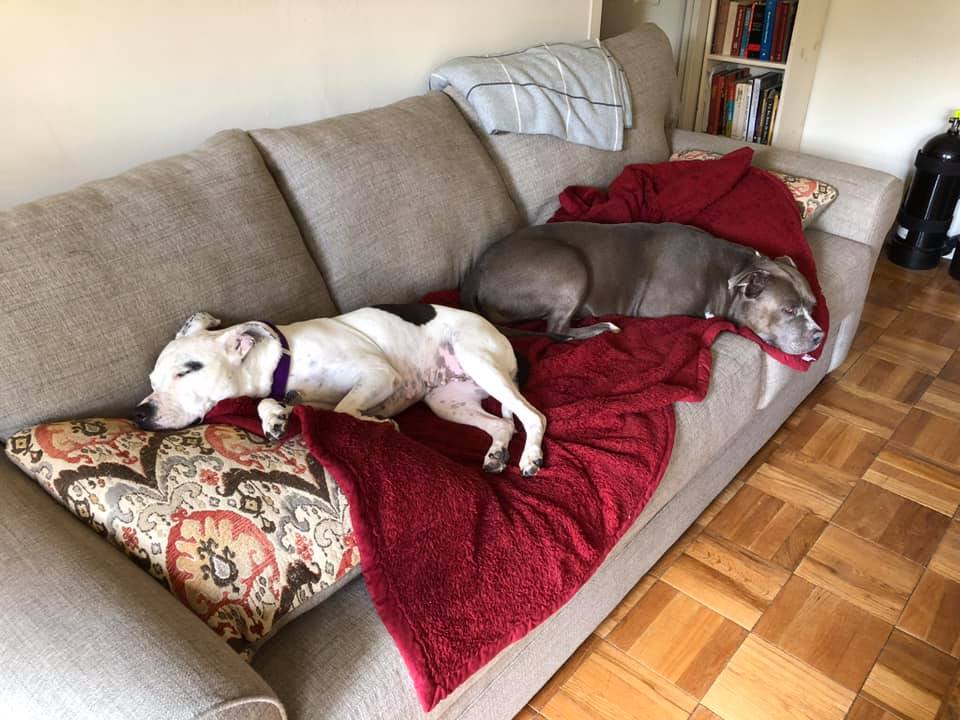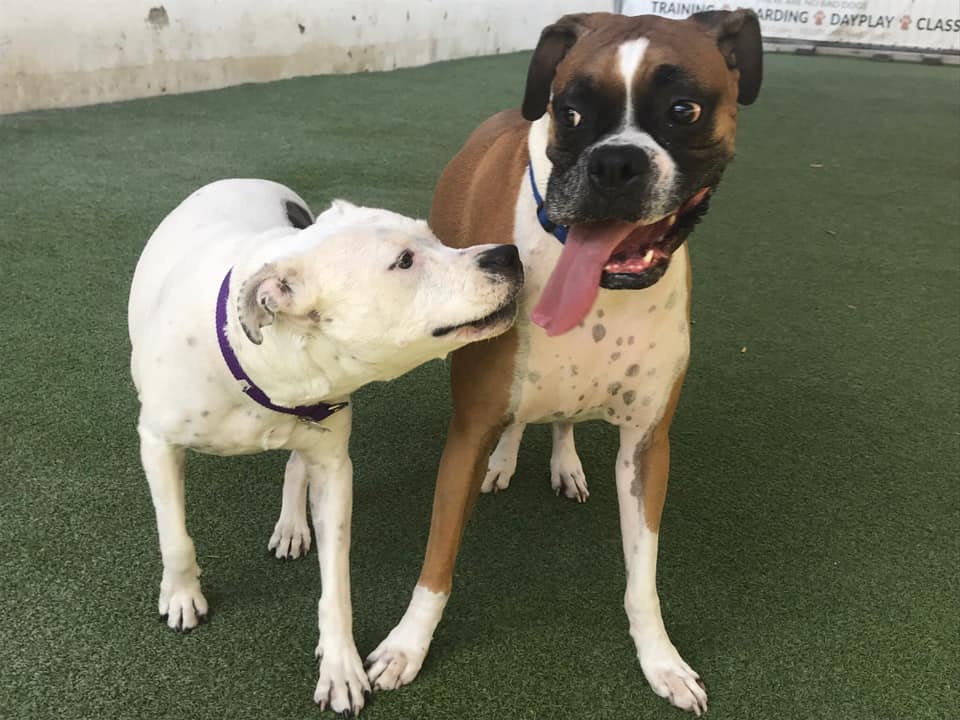 Made new dog friends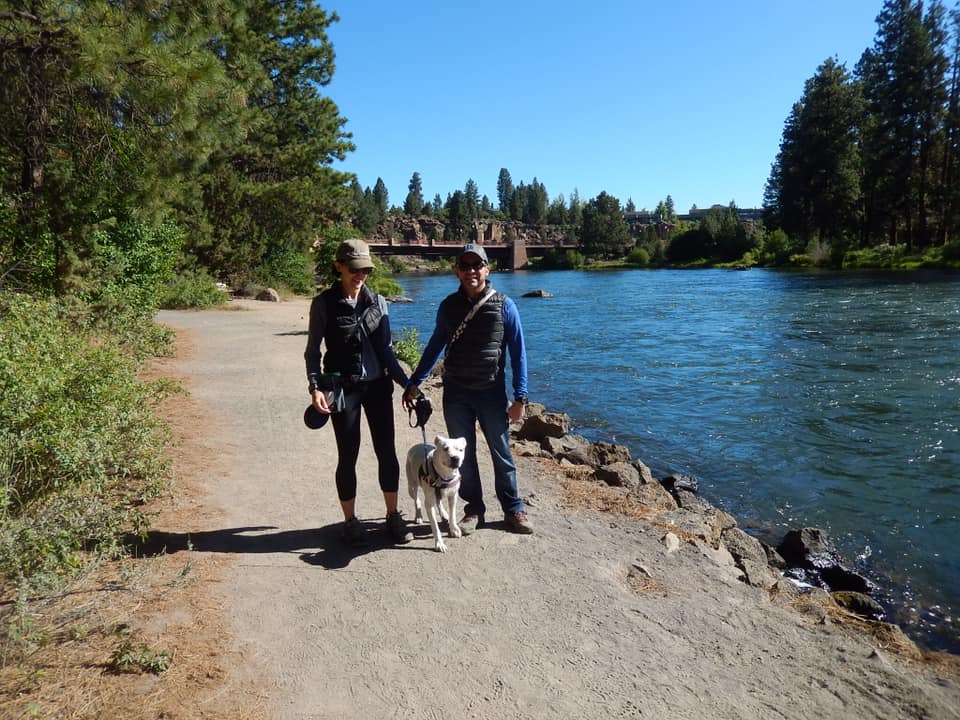 Went on two road trips, to two states (Oregon and Arizona), with lots of hikes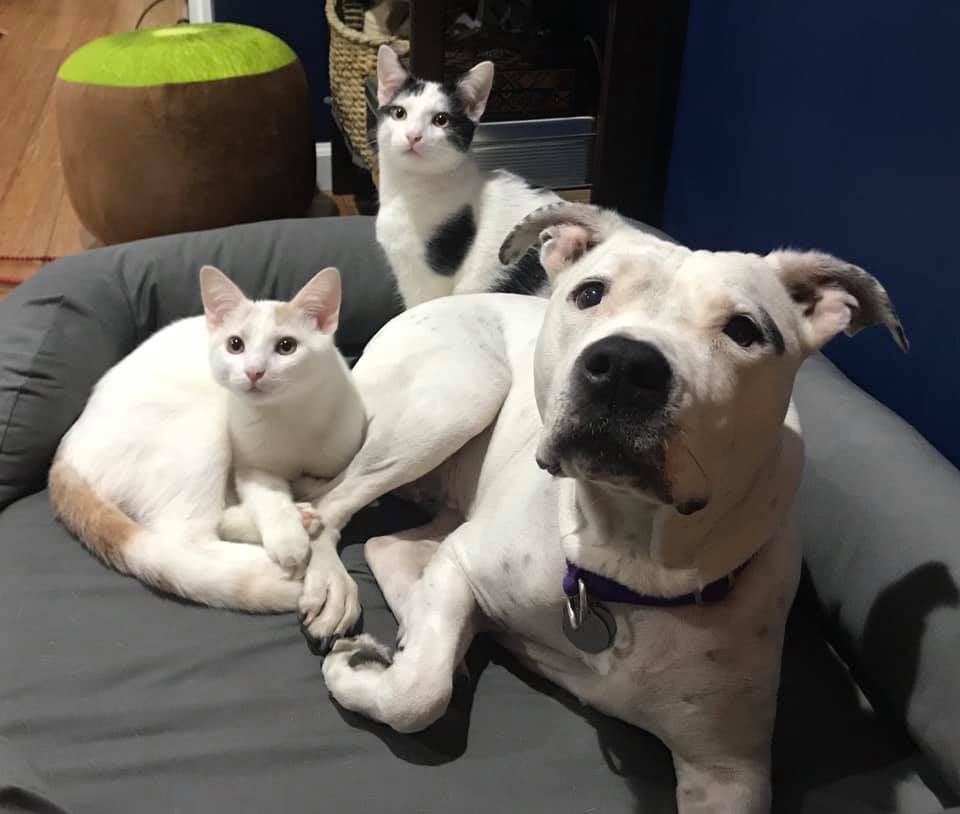 Fostered kittens, foster failed, and now has two kitten brothers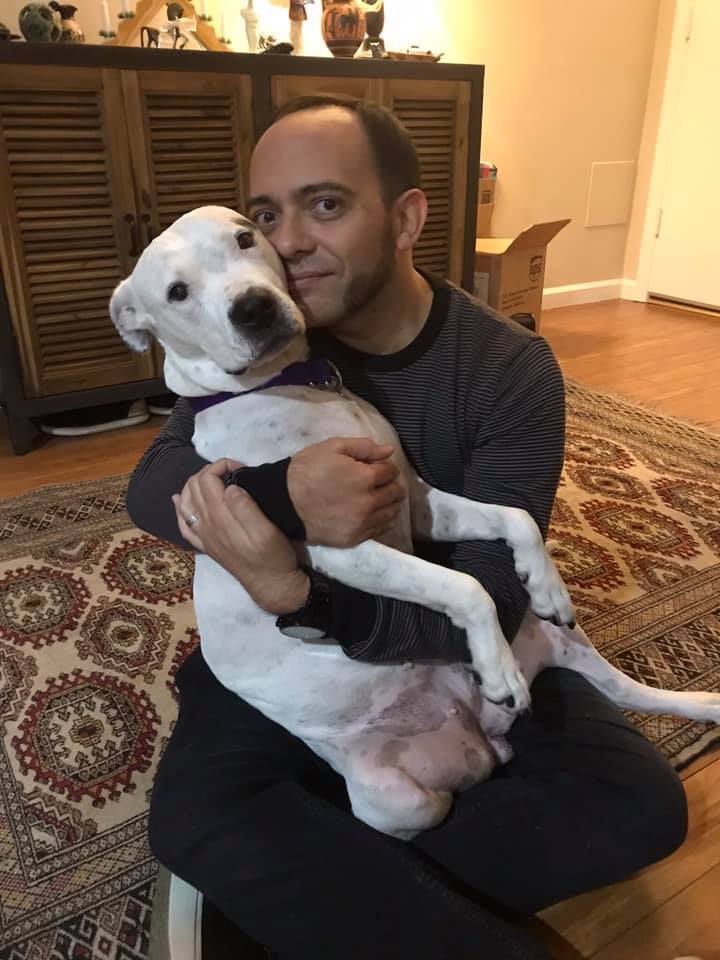 Perfected her lap sitting for ultimate cuddles
Sallie has inspired Krystle to go for the FULL MARATHON distance (her first time!) as part of team Angel City Pit Bulls this year. Krystle won't lie, the training has been hard: "I return from training runs absolutely exhausted, but when I see Sallie comfortably sleeping on the couch, I remember that I am running the marathon and raising money for ACPB so that more dogs can find a family and sleep on a couch." Yup, we get it. Seeing those smiling faces makes all the pain, blisters, and utter exhaustion worthwhile.
You can help more dogs like Sallie by donating to Krystle's fundraiser page.
Thank you, Krystle and Richard, for sticking by Sallie and putting in the work to offer her the best life ever.